NCAGE Codes
A NCAGE Code is assigned by NATO.

The NATO Commercial and Government Entity (NCAGE) Code is a 5-character unique identifier assigned to suppliers and consumers of a NATO Country of products or services; and recipients of financial assistance.

NCAGE was formerly known as a NATO Supply Code for Manufacturers (NSCM) or Federal Supply Code for Manufacturers (FSCM) in the USA.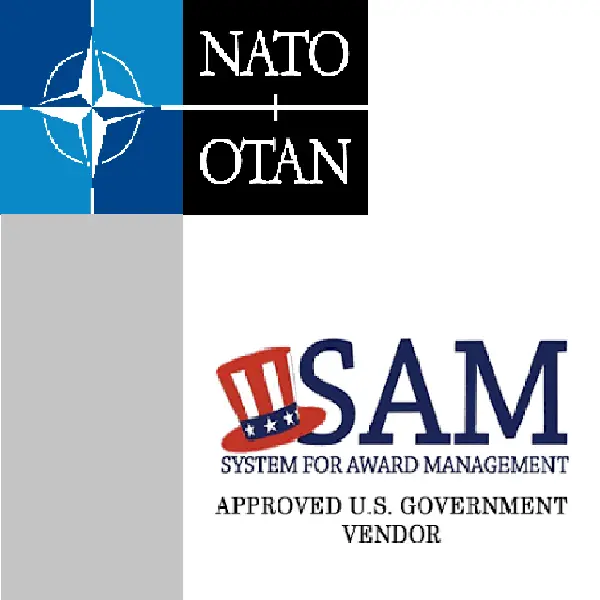 NCAGE Code Search
Search for NATO Products by Source NCAGE
What is a NCAGE Code?
NATO Commercial and Government Entity Code; a 5-character unique identifier assigned to suppliers and consumers of a NATO Country of products or services.

NATO maintains a central database of NCAGEs with each participating company contributing to the database as they do for NSNs. We use CAGE and NCAGE interchangeably in conversation on Government Procurement and this article will as well (for the edification of Google).

The definition of an Entity by NATO is two-fold; at organizational level for Government Agencies but for Commercial Organizations, an NCAGE Code is assigned to each "Place of Performance". A place of performance is a physical location from which supplies or services are supplied to a NATO Agency. Companies with multiple NCAGE Codes indicate in the database the hierarchy of the NCAGE Codes leading to one parent Entity.

NCAGE Codes are the primary key to an entity's business profile which includes location, Dun and Bradstreet (DUNS) file, business size, business capabilities, business financial data, contract payment methods, past performance and ownership among other facets.

As of 2022, the USA as well as some other NATO Nations have begun to phase out the reliance on Dun and Bradstreet's Business Database and are phasing in the Unique Entity Identifier (UEI). On April 4th, 2022, the USA's System for Award Management (SAM.gov) changed from the DUNS Number to the Unique Entity ID as the primary identifier for contract tender parties and contract award recipients. This change was reflected in the NATO NCAGE Database structure and most member nations are in the process of updating their business practices to use the UEI.
What are NATO and Stock Numbers (NSN)?
NATO is a transatlantic security alliance composed of thirty member countries, including the United States. An expanding bloc of NATO allies has taken on a broad range of missions since the close of the Cold War, many well beyond the Euro-Atlantic region, in countries such as Afghanistan and Libya. NATO members organize their physical supplies with NATO Stock Numbers. NATO Stock Numbers identify the physical characteristics of an item of supply to minimize duplicate stock items. A NATO Stock Number may be supplied by multiple sources with guaranteed compatiblity and quality between the sources. Each source of a NATO Stock Number (National Stock Number in the USA) is first registered with a NATO CAGE Code to uniquely identify it.
What is the Unique Entity Identifier (UEI)?
The Unique Entity ID is a 12-character alphanumeric ID assigned to all entities (public and private companies, individuals, institutions, or organizations) by a National Codification Bureau (NCB); in the USA it is obtained through the System for Award Management at SAM.gov.

The letters "O" and "I" are not used in UEIs to avoid confusion with zero and one.
How Do I Get a NCAGE Code?
Organizations Registered in the USA
Any commercial organization (company) registered in the USA can request a NCAGE Code by registering to do business or receive financial assistance at SAM.gov. During the registration process, you can search to find if you have an existing NCAGE Code or request a NCAGE Code be assigned. A NCAGE Code is free and assignment is usually completed within 10 days.
Click Here to Register with SAM.gov
NCAGE Code Format
NCAGE Codes are formatted as five alphanumeric characters with an uppercase convention. This allows a maximum of 60 Million NCAGE Codes to be generated, but certain characters are skipped to minimize reading errors such 'O' so that is not confused with zero and 'I' so it is not confused with one allowing a practical maximum of around 20 Million NCAGE Codes. As of January 2023, more than 3,720,000 NCAGE Codes have been assigned.

NCAGE Codes have a logic to the format. The NCB (National Codification Bureau) assigning the NCAGE Code can be identified by the first and fifth (last) characters of the NCAGE. The following table shows these variations together with the email contact for each responsible agency's NCAGE helpdesk should you need assistance.
NATO Codification Bureau Contacts
NSPA is in charge of the NCAGE codes of all the countries not listed in this table. Contact person: Mr Patrice VERLAINE, email: ncage@nspa.nato.int
Country
NCAGE Format
NCAGE Contact
NCAGE Email
ALBANIA
A***H
Cpt. Ermira HOXHA
ncbal@aaf.mil.al; alket.papa@aaf.mil.al
ARGENTINA
W***#
Ms. Marisa GRISAK
secade@mindef.gov.ar
AUSTRALIA
Z***#
Mr. Sattendra Sharma
NCB.VendorCellOps@defence.gov.au
AUSTRIA
#***N
Mjr. Harald ERKINGER
ncbatncage@bmlvs.gv.at
BELGIUM
B***#
Mr. Philippe BARBIEUX
ncbzbncage@mil.be
BRAZIL
#***K
Ms Clarice Cristina dos Santos
ncbbrncage@defesa.gov.br; clarice.santos@defesa.gov.br
BULGARIA
#***U
Mr. Peter IVANOV
ncbbgncage@mod.bg
CANADA
L***#
Mr. Ross PATTERSON
ncbcancage@forces.gc.ca
CANADA
#***#
CANADA
L***#
CANADA
#***#
COLOMBIA
A***Z
Ms. Maria Cristina PALACIOS CASTIBLANCO
grupodecatalogacion@mindefensa.gov.co
CROATIA
A***B
Mr. Mladen KLINCOV
ncbcr@morh.hr
CZECH REPUBLIC
#***G
Mrs. Helena PRINCOVA
ncbczncage@army.cz
DENMARK
R***#
Mr. Thorsten E. JENSEN
tej@mil.dk; fmi-sc-chsmk@mil.dk
EGYPT
#***D
Dr. Tamer HANAFFI
tamer.hanaffi@orionjlog.com
ESTONIA
#***J
Mrs. Tiia Laurend
codif@ecdi.ee
FINLAND
A***G
Mrs. Kaisa VALTAKOSKI
ncbfin@mil.fi
FRANCE
F***#
Mr. Christian HEMON
cimd-ncage.mgr.fct@intradef.gouv.fr
FRANCE
M***#
Mr. Jacques RABANNE
GEORGIA
A***R
Mr. Nino Memanishvili
nmemanishvili@mod.gov.ge
GERMANY
C***#
Mr. Hannes SPUDICH
NCBGE-NCAGE@bundeswehr.org
GERMANY
D***#
GREECE
G***#
Mrs. Elisavet ANAGNOSTOPOULOU
grncb@otenet.gr
HUNGARY
#***V
Cpt. Tamás ROBOTKA
ncbhuncage@hm.gov.hu
INDIA
#***Y
Capt (IN) P Kishore
oicncbindia.defstand@gov.in
INDONESIA
#***Z
Maj. M. Dede Solikin
NCB45cage@kemhan.go.id; puskod@kemhan.go.id
ISRAEL
#***A
Ms. Zehava Kagan
NCBISR.CAGE@idf.il
ITALY
A***#
ITA NCB NCAGE
ncbit.ncage@sgd.difesa.it
JAPAN
J***#
Mrs. Yuri KASHIWAGI
japan-ncage@atla.mod.go.jp
JORDAN
A***X
LtCol Fuad Quamar
joncb@jaf.mil.jo
KOREA, REPUBLIC OF
#***F
Ms. Jeomhee Moon
cagerkr@korea.kr
LATVIA
A***D
Mr. Vija KELPE
Vija.Kelpe@valic.gov.lv
LITHUANIA
#***R
Cpt. Vytautas GYLYS
ncblt@mil.lt
MALAYSIA
Y***#
Maj. Mohd Shahidzuan bin Abdul Aziz RMAF
ncb34bt@mod.gov.my
MONTENEGRO
A***W
Mr. Dejan STANIC
ncbmencage@mod.gov.me
MOROCCO
A***M
Cne Anas EL ESFAR
ccm_yp@far.ma; ecafar01@menara.ma
NETHERLANDS
H***#
Mr. Kees PRONK
ncbnlncage@mindef.nl
NEW ZEALAND
E***#
Mrs Cherry ZHONG
ncbnzncage@nzdf.mil.nz
NORTH MACEDONIA
A***C
Mr. Marin DIMOVSKI
marin.dimovski@mod.gov.mk
NORWAY
N***#
Mr. Egil ILSENG
ncbnoncage@mil.no
OMAN
A***E
ISSAM Al Ryami
cagteam@mod.gov.om; fahrasa@mod.gov.om
POLAND
#***H
Lt-Col. Stanislas HABUDA
ncbpl@ron.mil.pl
PORTUGAL
P***#
SSgt. Ana Sofia ROMAO TEIXEIRA
ncbptncage@defesa.pt
ROMANIA
#***L
Mrs. Claudia DUMINICA
ncbroncage@roncb.ro
SAUDI ARABIA
#***E
Mr. Syed Abdul Razzaq
sabdalrazzaq.c@mim.gov.sa
SERBIA
A***S
Ms. Marijana FILIĆ
ncbsrncage@mod.gov.rs
SINGAPORE
Q***#
Mr. Paul LIM Y. S.
ncbsn@dsta.gov.sg
SLOVAKIA
#***M
Mr. Stanislav JALOVIČIAR
ncbskncage@mil.sk
SLOVENIA
#***Q
Mrs. Uršula ČETINA
ursula.cetina@mors.si; sskk@mors.si
SPAIN
#***B
Mr. Rogerio SANCHEZ
ncbspncage@oc.mde.es
SWEDEN
A***N
Mr Peter BOSTRÖM
ncbswencage@fmv.se
TURKEY
T***#
Ms. Medine AYGUN
tmkb@msb.gov.tr
UKRAINE
A***J
Col. Roman BABENCHUK
ncbyrncage@mil.ua
UNITED ARAB EMIRATES
#***W
UAE NCB
uaencb.ncage@mod.gov.ae
UNITED KINGDOM
K***#
Mr. Edward McGUIRE
NCBGBRNCAGE@mod.gov.uk
UNITED KINGDOM
U***#
UNITED STATES
#***#
SAM.gov
Federal Service Desk
UNITED STATES
#***#
Where * is an alphanumeric character and # is a numeric character.