Disconnect Switch
Item Name Code (INC) 80673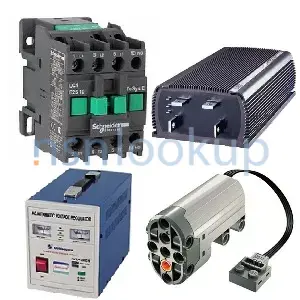 Additional Information for Disconnect Switch
Disconnect switches are devices used in electrical control equipment to isolate a circuit or equipment from its power source. They are commonly used in power distribution systems to provide a means of safely disconnecting power for maintenance or repair purposes.

Disconnect switches are designed to interrupt the flow of electrical current in a circuit. They typically consist of a switch mechanism and a set of contacts that can be opened or closed manually. When the switch is in the closed position, electrical current can flow through the contacts and power the connected equipment. When the switch is opened, the contacts are separated, effectively disconnecting the circuit from the power source.

These switches are essential for ensuring the safety of personnel working on electrical systems. By disconnecting the power supply, workers can perform maintenance or repairs without the risk of electric shock or other electrical hazards.

In the supply group Electric Wire, And Power And Distribution Equipment, disconnect switches are classified as Electrical Control Equipment. They play a crucial role in controlling and managing the flow of electrical power in various applications, including industrial, commercial, and residential settings.

Overall, disconnect switches are vital components in electrical control equipment, providing a safe and reliable means of isolating circuits and equipment from their power sources.
Related Item Names for INC 80673 Disconnect Switch
NATO Stock Numbers with Item Name 80673 Disconnect Switch
Page 1 of 1