Aircraft Seat Leg Assembly
Item Name Code (INC) 45079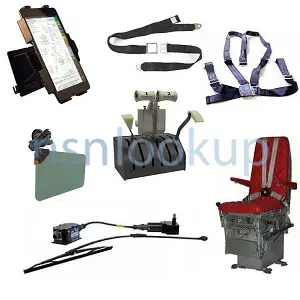 Additional Information for Aircraft Seat Leg Assembly
Aircraft Seat Leg Assembly refers to the component that supports and stabilizes the seats in an aircraft. It is a part of the Miscellaneous Aircraft Accessories And Components supply class, which falls under the supply group Aerospace Craft Components And Accessories.

The Aircraft Seat Leg Assembly is responsible for providing structural support to the seats, ensuring they are securely attached to the aircraft floor. It is designed to withstand the various forces experienced during flight, such as turbulence and landing impacts.

The assembly typically consists of metal or composite materials, and it may include features such as adjustable height, swivel capabilities, and locking mechanisms to provide comfort and convenience to passengers.

Overall, the Aircraft Seat Leg Assembly plays a crucial role in maintaining the safety and functionality of the seating system in an aircraft.
Related Item Names for INC 45079 Aircraft Seat Leg Assembly
NATO Stock Numbers with Item Name 45079 Aircraft Seat Leg Assembly
Page 1 of 1