Air Recovery Parachute
Item Name Code (INC) 42265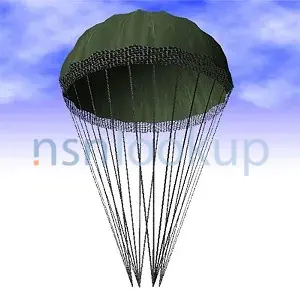 Additional Information for Air Recovery Parachute
Air Recovery Parachutes are a type of parachute used in the aerospace industry for aerial pick up, delivery, and recovery systems. They are specifically designed to safely recover personnel or cargo from the air. These parachutes are part of the supply class Parachutes; Aerial Pick Up, Delivery, Recovery Systems; and Cargo Tie Down Equipment, which falls under the supply group Aerospace Craft Components and Accessories.

Air Recovery Parachutes are typically made from durable materials such as nylon or Kevlar, and they are designed to withstand the forces and conditions encountered during aerial recovery operations. They are equipped with various features such as deployment systems, suspension lines, and harnesses to ensure safe and controlled descent.

These parachutes are used in a variety of applications, including military operations, search and rescue missions, and cargo delivery. They play a crucial role in safely retrieving personnel or equipment from the air, especially in situations where landing an aircraft may not be feasible or safe.

Overall, Air Recovery Parachutes are essential components of the aerospace industry, providing a reliable and efficient means of aerial pick up, delivery, and recovery.
Related Item Names for INC 42265 Air Recovery Parachute
NATO Stock Numbers with Item Name 42265 Air Recovery Parachute
Page 1 of 1