Quadrant Control Assembly
Item Name Code (INC) 39947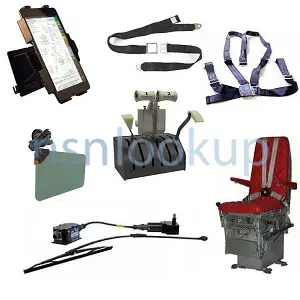 Additional Information for Quadrant Control Assembly
Quadrant Control Assembly is a component that falls under the supply class of Miscellaneous Aircraft Accessories and Components in the supply group of Aerospace Craft Components and Accessories.

The Quadrant Control Assembly is a mechanical device used in aircraft to control various functions, such as throttle, propeller pitch, or mixture control. It is typically located in the cockpit and is operated by the pilot or co-pilot.

The assembly consists of a quadrant, which is a curved metal plate with multiple levers or knobs attached to it. Each lever or knob corresponds to a specific control function. The quadrant is connected to the aircraft's control system through mechanical linkages or cables.

The Quadrant Control Assembly allows the pilot to precisely adjust and control the desired parameters of the aircraft's engine or other systems. It is an essential component for safe and efficient operation of the aircraft.

Please note that specific designs and features of Quadrant Control Assemblies may vary depending on the aircraft model and manufacturer.
Related Item Names for INC 39947 Quadrant Control Assembly
NATO Stock Numbers with Item Name 39947 Quadrant Control Assembly
Page 1 of 2