Rubber Strip
Item Name Code (INC) 25879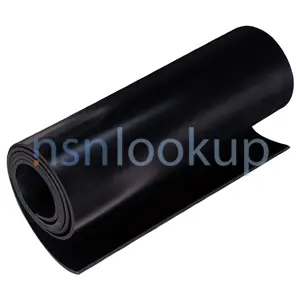 Additional Information for Rubber Strip
Rubber strips are flexible and elongated pieces of rubber material that are commonly used for various applications. They are typically made from synthetic rubber compounds, such as neoprene, EPDM, or silicone, which offer excellent durability, elasticity, and resistance to weathering, chemicals, and temperature extremes.

Rubber strips are often used for sealing, cushioning, and insulating purposes. They can be found in a wide range of industries, including automotive, construction, manufacturing, and plumbing. Some common uses of rubber strips include:

1. Sealing: Rubber strips are commonly used for sealing gaps, joints, and seams to prevent the ingress of water, air, dust, or noise. They are often used in doors, windows, cabinets, and other applications where a tight seal is required.

2. Cushioning: Rubber strips can be used as padding or cushioning material to absorb impact, reduce vibration, or provide a comfortable surface. They are often used in machinery, equipment, furniture, and sports equipment.

3. Insulation: Rubber strips can provide electrical insulation in various applications. They are used to insulate wires, cables, and electrical components to prevent electrical shocks or short circuits.

4. Weatherstripping: Rubber strips are commonly used as weatherstripping to seal gaps around doors and windows, preventing drafts and improving energy efficiency.

5. Anti-slip: Rubber strips with textured surfaces or adhesive backing can be used to provide traction and prevent slipping on surfaces such as stairs, ramps, or walkways.

Rubber strips are available in various sizes, thicknesses, and shapes to suit different applications. They can be purchased in rolls or cut to custom lengths.
Related Item Names for INC 25879 Rubber Strip
NATO Stock Numbers with Item Name 25879 Rubber Strip
Page 1 of 22