Evaporative Air Cooler
Item Name Code (INC) 20341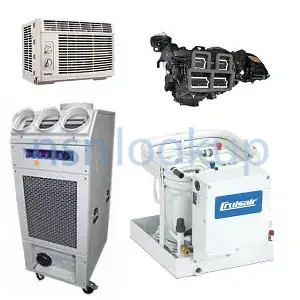 Additional Information for Evaporative Air Cooler
Evaporative air coolers, also known as swamp coolers, are a type of air conditioning equipment that falls under the supply class of Air Conditioning Equipment in the supply group of Refrigeration, Air Conditioning, and Air Circulating Equipment.

Evaporative air coolers work by using the natural process of evaporation to cool the air. They consist of a fan that draws warm air from the surrounding environment and passes it through a series of wet pads or filters. As the warm air passes through these pads, the water evaporates, which cools the air. The cooled air is then circulated back into the room, providing a refreshing and cooling effect.

These coolers are commonly used in dry and arid climates, where the air is hot and humidity levels are low. They are an energy-efficient and cost-effective alternative to traditional air conditioning systems, as they consume less electricity and do not require the use of refrigerants.

Evaporative air coolers are often used in residential, commercial, and industrial settings, such as homes, offices, warehouses, and outdoor spaces. They are particularly popular in regions with hot and dry climates, where they can provide effective cooling while also adding moisture to the air.

Overall, evaporative air coolers are a versatile and environmentally-friendly cooling solution that can help create a comfortable indoor environment in hot and dry conditions.
Related Item Names for INC 20341 Evaporative Air Cooler
NATO Stock Numbers with Item Name 20341 Evaporative Air Cooler
Page 1 of 1