Plain Stud
Item Name Code (INC) 15948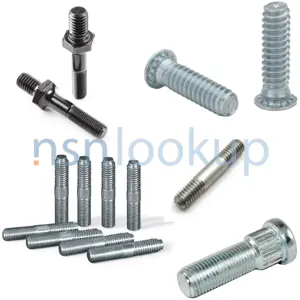 Additional Information for Plain Stud
Plain Studs are a type of fastener that are commonly used in construction and manufacturing industries. They are cylindrical in shape with threads on one end and a plain, unthreaded shank on the other end. The threaded end is used to secure the stud into a threaded hole or nut, while the plain shank provides stability and support.

In the supply class Studs, Plain Studs are a specific variation that do not have any additional features or coatings. They are typically made from materials such as steel, stainless steel, or brass, and are available in various sizes and lengths to accommodate different applications.

As part of the supply group Hardware And Abrasives, Plain Studs are categorized alongside other hardware items and abrasive materials that are commonly used in construction, maintenance, and repair tasks. This group may include items such as screws, bolts, nuts, washers, sandpaper, grinding wheels, and cutting tools.

When selecting Plain Studs from the supply class Studs in the supply group Hardware And Abrasives, it is important to consider the specific requirements of your project, such as the material, size, and strength needed. Additionally, it is recommended to follow proper installation techniques and safety guidelines when using Plain Studs or any other fasteners.
Related Item Names for INC 15948 Plain Stud
NATO Stock Numbers with Item Name 15948 Plain Stud
Page 1 of 77