Recessed And Stepped Stud
Item Name Code (INC) 15943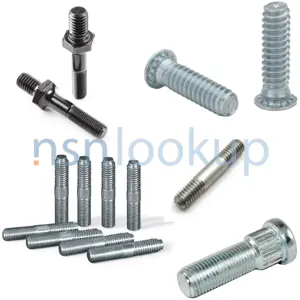 Additional Information for Recessed And Stepped Stud
Recessed and stepped studs are types of fasteners commonly used in various applications. Here's a brief explanation of each:

1. Recessed Stud: A recessed stud is a type of stud that has a portion of its length recessed or countersunk into the material it is being fastened to. This creates a flush or recessed surface, allowing other components or fasteners to be attached without obstruction. Recessed studs are often used in applications where a smooth and flush finish is desired, such as in furniture assembly or automotive interiors.

2. Stepped Stud: A stepped stud, also known as a stepped bolt, is a type of stud that has different diameter sections along its length. The diameter of the stud increases or decreases at specific points, creating steps or shoulders. This design allows for different components or fasteners to be attached at different positions along the stud. Stepped studs are commonly used in applications where multiple components need to be secured at different heights or levels, such as in machinery or equipment assembly.

Both recessed and stepped studs are part of the supply class "Studs" in the supply group "Hardware and Abrasives." These studs are available in various materials, sizes, and thread types to suit different applications and requirements.
Related Item Names for INC 15943 Recessed And Stepped Stud
NATO Stock Numbers with Item Name 15943 Recessed And Stepped Stud
Page 1 of 3