Barrel Self-Locking Nut
Item Name Code (INC) 15891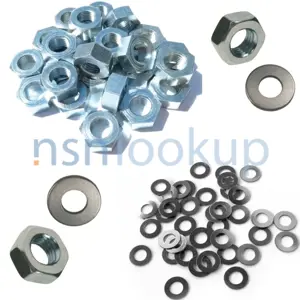 Additional Information for Barrel Self-Locking Nut
Barrel self-locking nuts are a type of fastener that falls under the supply class "Nuts And Washers" in the supply group "Hardware And Abrasives." These nuts are designed with a unique locking mechanism that helps prevent them from loosening or coming undone under vibration or other external forces.

The barrel self-locking nut features a series of grooves or serrations on the inner surface of the nut. These serrations create friction when the nut is tightened onto a threaded bolt or stud. As a result, the nut resists loosening due to vibrations or other external forces.

The design of barrel self-locking nuts eliminates the need for additional locking devices such as lock washers or thread-locking compounds. This makes them a convenient and cost-effective solution for applications where vibration resistance is required.

Barrel self-locking nuts are commonly used in various industries, including automotive, aerospace, machinery, and construction. They are available in different sizes and materials to suit different application requirements.

When using barrel self-locking nuts, it is important to ensure that the nut is properly tightened to achieve the desired locking effect. It is also recommended to periodically inspect and re-tighten the nuts if necessary to maintain their effectiveness.

Overall, barrel self-locking nuts are a reliable and efficient fastening solution that provides added security and stability in various applications.
Related Item Names for INC 15891 Barrel Self-Locking Nut
NATO Stock Numbers with Item Name 15891 Barrel Self-Locking Nut
Page 1 of 2