Aerial Delivery Cargo Tie Down Assembly
Item Name Code (INC) 15045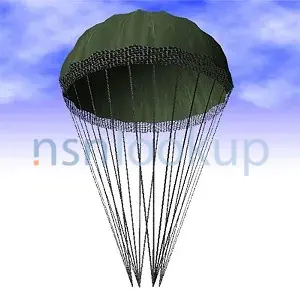 Additional Information for Aerial Delivery Cargo Tie Down Assembly
Aerial Delivery Cargo Tie Down Assembly refers to a specific type of equipment used in the aerospace industry. It falls under the supply class Parachutes; Aerial Pick Up, Delivery, Recovery Systems; and Cargo Tie Down Equipment, which is part of the supply group Aerospace Craft Components and Accessories.

This assembly is designed to secure cargo during aerial delivery operations. It ensures that the cargo remains stable and secure during transportation, preventing any movement or damage. The tie-down assembly typically consists of straps, buckles, hooks, and other fastening mechanisms that are specifically designed to withstand the forces experienced during aerial operations.

These assemblies are crucial for ensuring the safe and efficient transportation of cargo in the aerospace industry. They are used in various applications, including military operations, humanitarian aid missions, and commercial cargo transportation.

If you need more specific information or have any other questions, feel free to ask!
Related Item Names for INC 15045 Aerial Delivery Cargo Tie Down Assembly
NATO Stock Numbers with Item Name 15045 Aerial Delivery Cargo Tie Down Assembly
Page 1 of 1