NATO Stock Number (NSN)
"A NATO Stocking Number is a Unique Stock-Keeping Unit (SKU) code assigned by the Codification Bureau of a NATO Member Nation to tangible items repeatedly procured, stocked, stored and issued through their supply system"
NATO Stock Numbers (NSNs) are used to identify and manage every physical supply item you could imagine: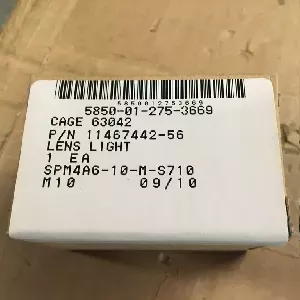 NATO Stock Number Search
Search for NATO Stock Numbers in NMCRL
What Is NATO?
Established during the Cold War, NATO is a transatlantic security alliance composed of thirty-one member countries, including the United States. An expanding bloc of NATO allies has taken on a broad range of missions since the close of the Cold War, many well beyond the Euro-Atlantic region, in countries such as Afghanistan and Libya.
What Are NATO Stock Numbers?
Governments are vast and comprised of hundreds of agencies, departments, and units; organization is key. This is especially true when it comes to government contracting and warehousing. One of the numerous ways governments streamline and standardize the procurement process is with NATO Stock Numbers (NSNs), also known as NATO Stocking Numbers.

NSNs have been commonly associated with the United States Military as National Stock Numbers which have evolved from the Federal Stock Numbers developed suring World War II. While the United States Government did in fact develop the codification system, it has long been developed and augmented into a Global System by NATO with the United States being the pre-eminent member of the organization. If we were to be formal, NSN means NATO Stock Number and the terms National Stock Number and Federal Stock Number have long been obsolete.

NSNs are a critical component of Government Procurement because they were created to reduce duplicate items in the Government Inventory and Standardize Requirements for performance, quality control, testing and disposal.

Every year (as of 2022) NATO Countries and Other Countries that use the NATO Stock Number System use NSNs to procure more than Six Trillion US Dollars of products by NSN.

NATO Stocking Numbers (NSNs) are used to identify and manage every physical supply item you could imagine, including tires, aircraft parts, hammers, and lightbulbs. Each item's unique NSN is linked in the structured NATO Stock Number Catalogue to information about the name, price, source, physical/performance characteristics, manufacturer, and dimensions among Other things.
What does NSN Stand For?
NSN stands for NATO Stock Number which has long superceded National Stock Number.
Which Other Countries Use NATO Stock Numbers?
The NATO Stock Number System has been developed into a Global System with many non-NATO Countries now enjoying the use of the NMCRL (NATO Master Cross-Reference List) and the collaboration in procurement and inventory.

Countries such as Australia, Saudi Arabia, New Zealand, Japan, Russia and Colombia use the system as the backbone of their military procurement systems.

NSNs are officially recognized by more than 100 Governments internationally, making it the most widely used universal catalog system after GS1/EAN/UPC Barcodes on Retail Products.

NATO Stock Numbers are formally recognized by Google as Unique Product SKUs and utilized in Google Searches.
Why Were NSNs Created?
Before NSNs existed, different names were often given to the same items, making it difficult for agencies to locate supplies or share items of supply and causing duplication of inventory. During times of great need like World War II, a lot of products were depleted while others were in surplus and it was decided that a Master Planning System (military nsn database) must be created to organize and improve the efficiency of future procurement.

NSNs were created by the US Government to keep everyone on the same page. They form a standardized classification system that eliminates discrepancies. Today, NATO Numbers are used to identify and manage 17 million active products in the US Federal Logistics Information System (FLIS) MCRL and a further 18 million active products managed in the NMCRL NATO Stock Number Catalogue by NATO and other countries. Usually about 12,000 NSNs are created each month and more than 7,000 are cancelled.

Furthermore, historical data is maintained for items which are no longer active. The system allows the intricate management of any item of supply from cradle to grave, even determining the "sensitivity" of the product in terms of national security and how surplus can be disposed of - by sale or destruction.
NATO Stock Numbers Format
NATO Stocking Numbers are a 13-digit alpha-numeric code with a defined anatomy of segments:
Characters in position 1 and 2 (First Two Characters)
Defines the Top-Level Grouping of the Item of Supply (IoT)
Also known as the FSG (Federal Supply Group) Code
Example: 95 is the Group for Metal Bars, Sheets, and Shapes

NATO Supply Class (NSC)

Characters in position 1, 2, 3 and 4 (First Four Characters)
Defines the Sub-Grouping of the Item of Supply (IoT) known as its supply class
Also known as the FSC (Federal Supply Classification) Code
Example: 9515 is the Sub-Group of FSG 95 Metal Bars, Sheets, and Shapes for: Plate, Sheet, Strip, Foil, and Leaf

National Codification Bureau (NCB)

Characters in position 5 and 6
Represents the Nation which originated the NATO Number and typically the Nation that manages the NSN
Examples: 00 and 01 are the NATO Stock Number Country Codes for the USA, 14 is the NCB for France
Exceptions: The NCB positions may be used to identify local items of supply and/or temporary items of supply which have not been codified by the international system. Codes such as LL, LN, MC, CC, LC and ZZ have become part of the NATO Stock Number Catalog inventory even though they do not have an official definition.

Non-Significant Characters

Alpha-Numeric Characters in positions 7 through 13
These 7 characters are randomly assigned by each NCB and offer no sigificance Other than identification of the item of supply

NATO Item Identification Number (NIIN)

The NIIN is the combination of the NCB and the Non-signification Characters, 9 characters in total.
The NIIN is unique to each item of supply and is therefore the primary key to the supply catalog
The NIIN is permanent for each item of supply
Also known as National Item Identification Number (NIIN)
Each NCB can codify up to 10 Million Items of Supply using this cataloging system

NATO Stock Number (NSN)

The NSN (NATO Number) is the combination of the NSC and the NIIN, 13 characters in total.
The NSC (first 4 characters) may change in a NSN as the catalog structure is revised without affecting the actual item of supply identification which is based on the NIIN
Also known as National Stock Number (NSN)
Also known historically as Federal Stock Number (FSN) - FSNs existed before NATO adopted the US System and the introduction of the NCB system
For user-friendly reading of NSN Numbers, it is common for a dash to be inserted at strategic points such as this NSN example: 9515-00-003-6945, however, whenever this NSN example is read in an Automatic Data Processing (ADP) environment, a NATO Stocking Number will be represented in its true form: 9515000036945 - a thirteen (13) character string.
How Many NATO Stock Numbers Are There?
As of 2022, there were about 24 million active nato stock numbers - each representing a unique item of supply. In addition, there is the historical segment of the NSN Catalog, Segment K, which contains more then 11 million historical national stocking numbers. Segment K contains both unique historical items of supply as well as historical references to currently active items of supply where the Supply Class has changed over time from catalog re-structuring. The global catalog is increasing at the rate of about 210,000 new items of supply per year. In 2021, around 92,000 unique items of supply became archived as historical into Segment K.
Ways to Access NATO Stock Number Data
There are several databases that can help you do a NATO Stock Number Search and access information about NSNs:
Public Logistics Data (PUB LOG): PUB LOG is a downloadable DVD product updated monthly. With PUBLOG you can search NSN data for the NSNs which the US Government uses, FLIS data including NSNs and their associated supply data, characteristics data, and much more. PUB LOG can be downloaded from the Federal Logistics Information Services (FLIS) Data Electronic Reading Room.
Federal Logistics Data (FED LOG): This system is more restrictive because it contains sensitive and classified information. Only government employees with a Common Access Card (CAC) can log-on to FED LOG. With FED LOG, you can access FLIS data for the NSNs that the US Government uses, even when internet connectivity is unavailable. This system provides NSN data, National Stocking Number (NSN), the Approved Item Name, Manufacturers and Distributors (CAGE)information (to include part numbers), Physical and Performance Characteristics and more. FED LOG Lite is the same database but without techical data and characteristics. FED LOG is updated daily. Authorized users can also access FED LOG from the FedMall site. FedMall provides visibility to customers looking to purchase an item, and it contains all the active US Defense Logistics Agency (DLA) managed NSNs.
NATO Master Catalogue of References for Logistics (NMCRL): The NMCRL is published both through a web portal and offline via downloadable software from the NATO Support and Procurement Agency (NSPA). The system requires a paid subscription for access. Data is updated monthly and data cannot be shared or disseminated. The NMCRL publishes information on all NSNs from NATO and Other select Countries for NATO Stocking Number Lookup. Some Countries consider their NSNs to be Copyrighted. Many Countries do not allow their NSNs to be published anywhere but in the NATO Stock Number Database for official use only. The US Military and Other US Security Agencies restrict classified items from being published in the NATO Stock Number Database.
Individual Codification Bureaux: Each Codification Bureau has a system, either by individual request, request for the NATO Stock Numbering Database by DVD-ROM, or online, to access their codification data. This is normally intended for Freedom of Information to its citizens and/or use by its supply-chain sub-contractors.
NATO Codification Bureaux
| Country | CTR | MOE | NCB | NCAGE | Category |
| --- | --- | --- | --- | --- | --- |
| Albania | ALB | YH | 59 | A***H | NATO |
| Algeria | DZA | VN | 82 | B***B | Tier 1 |
| Argentina | ARG | YF | 29 | W***# | Tier 2 |
| Australia | AUS | ZA | 66 | Z***# | Tier 2 |
| Austria | AUT | WB | 41 | #***N | Tier 2 |
| Azerbaijan | AZE | none | none | none | Other |
| Belgium | BEL | ZB | 13 | B***# | NATO |
| Bosnia and Herzegovina | BIH | VB | 75 | A***U | Tier 1 |
| Brazil | BRA | YA | 19 | #***K | Tier 2 |
| Brunei Darussalam | BRN | VC | 76 | A***V | Tier 1 |
| Bulgaria | BGR | WU | 50 | #***U | NATO |
| Canada | CAN | ZC | 20 | L***# | NATO |
| Canada | CAN | ZC | 20 | #***# | NATO |
| Canada | CAN | ZC | 21 | L***# | NATO |
| Canada | CAN | ZC | 21 | #***# | NATO |
| Chile | CHL | YN | 52 | A***A | Tier 1 |
| China | CHN | YV | none | none | Other |
| Colombia | COL | YC | 80 | A***Z | Tier 2 |
| Croatia | HRV | WD | 53 | A***B | NATO |
| Czech Republic | CZE | WZ | 16 | #***G | NATO |
| Denmark | DNK | ZS | 22 | R***# | NATO |
| Egypt | EGY | YQ | 36 | #***D | Tier 1 |
| Estonia | EST | WE | 38 | #***J | NATO |
| Fiji | FJI | WJ | 48 | #***S | Other |
| Finland | FIN | WF | 58 | A***G | NATO |
| France | FRA | ZF | 14 | F***# | NATO |
| France | FRA | ZF | 14 | M***# | NATO |
| Georgia | GEO | VG | 68 | A***R | Tier 1 |
| Germany | DEU | ZG | 12 | C***# | NATO |
| Germany | DEU | ZG | 12 | D***# | NATO |
| Greece | GRC | ZU | 23 | G***# | NATO |
| Hungary | HUN | WH | 51 | #***V | NATO |
| Iceland | ISL | ZV | 24 | S***# | NATO |
| India | IND | ZI | 72 | #***Y | Tier 2 |
| Indonesia | IDN | YT | 45 | #***Z | Tier 2 |
| Iraq | IRQ | VQ | none | none | Other |
| Israel | ISR | YD | 31 | #***A | Tier 2 |
| Italy | ITA | ZR | 15 | A***# | NATO |
| Japan | JPN | ZJ | 30 | J***# | Tier 2 |
| Jordan | JOR | VJ | 78 | A***X | Tier 2 |
| Korea, Republic of | KOR | ZH | 37 | #***F | Tier 2 |
| Kuwait | KWT | YK | 60 | A***K | Other |
| Latvia | LVA | VD | 55 | A***D | NATO |
| Lithuania | LTU | WI | 47 | #***R | NATO |
| Luxembourg | LUX | ZL | 28 | B***# | NATO |
| Malaysia | MYS | YW | 34 | Y***# | Tier 2 |
| Mexico | MEX | YX | none | none | Other |
| Montenegro | MNE | VH | 77 | A***W | NATO |
| Morocco | MAR | YP | 63 | A***M | Tier 2 |
| NATO & International Org. | none | none | none | I***# | NATO |
| Netherlands | NLD | ZN | 17 | H***# | NATO |
| New Zealand | NZL | ZE | 98 | E***# | Tier 2 |
| Non-NATO Nations | none | none | none | S***# | NATO |
| North Macedonia | MKD | WM | 54 | A***C | NATO |
| Norway | NOR | ZT | 25 | N***# | NATO |
| NSPA (NMCRL) | none | WX | none | none | NATO |
| NSPA (User) | none | ZX | none | X***# | NATO |
| Oman | OMN | VE | 56 | A***E | Tier 1 |
| Pakistan | PAK | ZO | 74 | A***T | Tier 1 |
| Papua New Guinea | PNG | YG | 65 | A***P | Other |
| Peru | PER | VP | 79 | A***Y | Tier 1 |
| Philippines | PHL | ZM | 46 | #***P | Other |
| Poland | POL | WP | 43 | #***H | NATO |
| Portgual | PRT | ZP | 26 | P***# | NATO |
| Qatar | QAT | VM | 81 | B***A | Tier 1 |
| Romania | ROU | WR | 39 | #***L | NATO |
| Russian Federation | RUS | YU | 57 | A***F | Removed |
| Saudi Arabia | SAU | YS | 70 | #***E | Tier 1 |
| Serbia | SRB | VS | 73 | A***S | Tier 2 |
| Singapore | SGP | YJ | 32 | Q***# | Tier 2 |
| Slovakia | SVK | WS | 40 | #***M | NATO |
| Slovenia | SVN | WL | 42 | #***Q | NATO |
| South Africa | ZAF | ZD | 18 | V***# | Tier 1 |
| Spain | ESP | YB | 33 | #***B | NATO |
| Sudan | SDN | YM | none | none | Other |
| Sweden | SWE | VK | 64 | A***N | Tier 2 |
| Switzerland | CHE | YL | none | none | Other |
| Taiwan | TWN | YE | none | none | Other |
| Thailand | THA | YY | 35 | #***C | Tier 1 |
| Tonga | TON | WT | 49 | #***T | Other |
| Turkey | TUR | ZW | 27 | T***# | NATO |
| Ukraine | UKR | YR | 61 | A***J | Tier 2 |
| United Arab Emirates | ARE | WG | 71 | #***W | Tier 2 |
| United Kingdom | GBR | ZK | 99 | K***# | NATO |
| United Kingdom | GBR | ZK | 99 | U***# | NATO |
| United Nations | none | WA | 44 | none | Other |
| United States | USA | ZZ | 01 | #***# | NATO |
| United States | USA | ZZ | 00 | #***# | NATO |
| United States | USA | ZZ | 02-09 | #***# | NATO |
| US Domestic Use Only | none | VA | none | none | NATO |
| US Domestic Use Only | none | WW | none | none | NATO |
Albania

Belgium

Brazil

Czech Republic

Finland

United States of America