Item Unique Identification (IUID)
A system of marking items within NATO with unique item identifiers that have machine-readable data elements to distinguish an item from all other like and unlike items.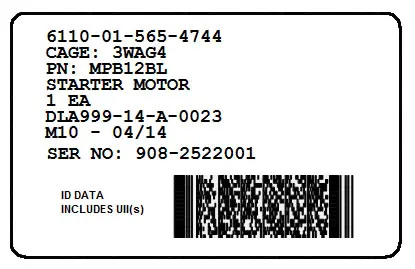 NATO Stock Number Search
Search for NATO Stock Numbers in NMCRL
IUID Definition
Item Unique Identification (IUID) is a systematic process to globally and unambiguously distinguish one item from all the other items that NATO buys or owns. IUID-enabled Serialized Item Management (SIM) provides a capability that allows NATO to locate, control, value and manage its assets throughout the life cycle. A robust SIM program provides tools and processes to assist informed decision making to achieve both better weapon system reliability and readiness at reduced total ownership cost. IUID-enabled SIM provides NATO with a standard methodology to:
Consistently capture the value of all individual items it buys/owns
Trace these items during their use
Combat counterfeiting of parts
Associate valuable business intelligence to an item throughout its life cycle via automatic identification technology and connections to automated information systems
What is an IUID?
Item Unique Identification is one of a family of Automatic Identification Technologies (AIT). IUID transfers its identifiers via both human readable text and machine scannable codes. Another form of AIT is Radio Frequency Identification (RFID). RFID uniquely identifies shipping containers and other transportable loads. RFID transmits its identifiers using a Passive Chip, located inside a packaging label or as a discrete tag, passing through an inductive loop located at warehouse doors. A Shipping Container with several serialized items inside could have a RFID chip on the outside of the container while each of the items inside may have separate IUID marks or RFID chips.
When is a IUID required?
Most NATO Countries require Item Unique Identification for all new item acquisitions meeting one or more of these criteria:
Line item acquisition cost in its contract of $5,000 (variable by country and agency) or more
Serially managed by NATO
Controlled or mission essential
The Government requires permanent identification for another reason
IUID Registry
The Issuing Agency (Government or Contractor) assigns a globally unique, permanent Unique Item Identifier (UII) as an early step to affixing an Item Unique Identification. Usually the UII becomes part of the IUID Registry when the Government accepts the corresponding item in their Contracting System (WAWF in the USA). This acceptance is part of the Material Inspection and Receiving Process.

The Item Unique Identification Registry is the central repository for Item Unique Identification information and serves as an acquisition gateway to identify:
What the item is
How and when it was acquired
The initial value of the item
Current custodial agency (government or contractor)
How it is marked

The IUID Registry is also the master data source for Government Furnished Property (GFP). GFP items in the Item Unique Identification Registry may or may not be uniquely identified.


Can other items have an IUID?
Some manufacturers mark nearly all parts regardless of the above criteria because they use IUID internally for pedigree (parent/children) tracking and error proofing of manufacturing and factory maintenance. Most NATO Item Unique Identification Registries readily accept the records of these additionally marked parts.
Legacy Items
Serially-managed legacy items that are were already present in inventory before the Item Unique Identification Requirements were enforced may also be IUID relevant. There are Country based Item Unique Identification Standards for Tangible Personal Property. These Legacy items can be registered with the IUID Registry and an Item Unique Identification affixed if required.
Embedded Items
Embedded items, those that are within other items without their own explicit cost associated with a contract, may be IUID Registered if they are serial-managed or a requirement exists for permanent identification.