Premium Information is available for this item - Upgrade for $1 a day
8145-00-856-8147
Avds-1790 Engine Shipping And Storage Container
8145008568147 008568147 10912269
A multisectional shipping and storage container with provisions included for assembly. View more Engine Shipping And Storage Container

Managed by United States
NSN Created on 1 Jan 1962
Data Last Changed
September 2023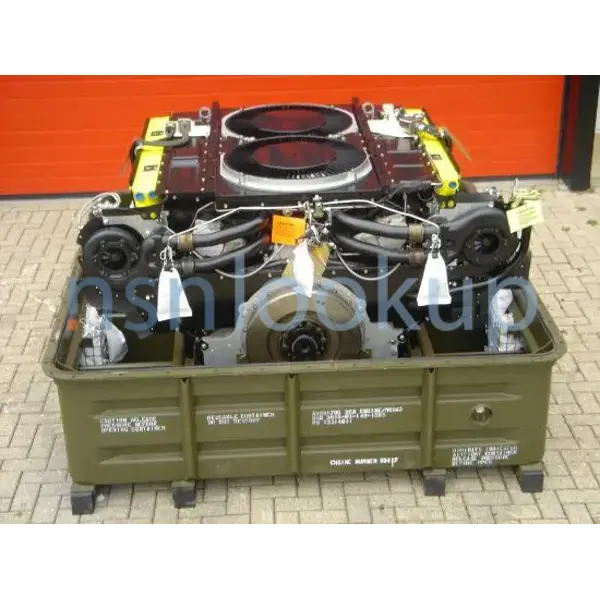 This is the shipping container for the AVDS-1790-2 Series of Engines. The AVDS-1790-2 Engine Series are air-cooled, V-type, diesel, fuel injected, turbosupercharged, 12-cylinder, 90-degree configuration, four cycle, engine. A mechanical fuel injection pump delivers high pressure, metered fuel to individual cylinders through fuel injector nozzles. Two turbochargers are exhaust-gas driven and increase the air flow pressure entering the air intake manifolds to around a 20PSI boost. A fuel supply pump, located at the front of the engine, draws fuel through the primary and secondary fuel systems from the vehicle fuel tanks and delivers it to the injection pump. Cylinder assemblies are individually replaceable units with overhead valves and valve rocker assemblies in the head. Cylinders are arranged in two banks of six cylinders each. Each bank of cylinders has an overhead camshaft arrangement to actuate the valves of each cylinder. A solenoid-operated 24-volt low-voltage sensing module prevents starter activation with improperly charged batteries to protect the starter from damage. Lubrication is by a forced feed system consisting of four circuits: Main Pressure, Scavenge, Leveling and Make-up. This multi-circuit system allows the engine is operate at extreme angles of up to 70 degrees tilt in any direction. The four oil circuits are operated independently by one oil pump with four separate sections. Cold Weather starting is imporoved by two intake manifold heaters installed in the air intake system between the intake manifold elbows and the turbosuperchargers which preheat the air entering the cylinders to facilitate cold-weather starting and idle. The AVDS-1790-2CA engine has an on-board fuel water seperator system. The primary fuel filter has a constant bleed orifice to remove in to the fuel return and a secondary water seperator filter with an automated water drain valve. The AVDS-1790-2CA engine is fitted with a 'clean air' system where sensors in the turbos detect foreign debris entering the engine air intake and operate a debris rejection system. The AVDS-1790-2CA engine is fitted with an oil-cooled 650A 28VDC Generator. The engine can operate while totally submerged in water with the aid of a snorkel. It can be started and operated at extreme temperatures ranging from -25 to +125°F (-32 to +52°C). The use of quick-release fuel and electrical connectors permit fast replacemennt and for the engine to be performance checked in the vehicle or easily 'ground-hopped' outside the vehicle. For more information go to AVDS-1790 Engine Information.
Marketplace 8145-00-856-8147
Need Help?
Request a Quotation from participating marketplace vendors
Restrictions 8145-00-856-8147
8145-00-856-8147 is a Avds-1790 Engine Shipping And Storage Container that does not have a nuclear hardened feature or any other critical feature such as tolerance, fit restriction or application. Demilitarization of this item has been confirmed and is not currently subject to changes. This item is considered a low risk when released from the control of the Department of Defense. The item may still be subject to the requirements of the Export Administration Regulations (EAR) and the Code of Federal Regulations (CFR). This item is not suspected to be hazardous. This item does not contain a precious metal.
Import and Export 8145-00-856-8147
End Users 8145-00-856-8147
US Army (A202)

Effective Date:

1 Apr 1991

Former MOE Rule:

A203
US Marine Corps (MA5T)

Effective Date:

1 Nov 2000
Austria (WB01)

Effective Date:

1 Feb 2005
Spain (YB01)

Effective Date:

1 Feb 1994
Israel (YD01)

Effective Date:

1 Sep 2016
Australia (ZA01)

Effective Date:

1 Aug 2011
Portugal (ZP01)

Effective Date:

1 Apr 1991
Greece (ZU01)

Effective Date:

1 Aug 1995
Approved Sources 8145-00-856-8147
Datasheet 8145-00-856-8147
Characteristic

Specifications

FIIG

T358-E

Accommodated Equipment Identifying Number

[BJMZ]

Avds-1790-2 Model No.

Material

[MATT]

Steel

Mounting Surface Plane

[AFJR]

Parallel

End Item Identification

[AGAV]

Shipping And Storage Container Engin

Shape

[SHPE]

Rectangular

Overall Height

[ABKW]

5.145 Feet Nominal

Overall Length

[ABHP]

7.459 Feet Nominal

Overall Width

[ABMK]

7.459 Feet Nominal

Window

[ATDN]

Not Included

Storage/Shipment Condition

[AQHH]

Hermetically Sealed

Surface Treatment

[SFTT]

Enamel
Management Data 8145-00-856-8147
Effective Date

Organization
Unit of Issue
Unit Price
Qty Unit Pack

Nov 2022

US Marine Corps (DM)
EA

Oct 2022

Department of the Army (DA)
EA

Oct 2021

Department of the Army (DA)
EA

Nov 2020

Department of the Army (DA)
EA

Oct 2020

US Marine Corps (DM)
EA

Nov 2019

Department of the Army (DA)
EA

Oct 2019

US Marine Corps (DM)
EA
Army
Materiel Category and Inventory Manager:

K

Tactical and Support Vehicles, Combat and Automotive Materiel

Appropriation and Budget Activity:

2

Stock Fund Secondary Items

Management Inventory Segment:

1

Repairable Items(Exclusive of Insurance and Provisioning Items)
This code will be used to identify serviceable or unserviceable items of a durable nature, which when unserviceable normally can be repaired economically by depots or lower echelons of maintenance.

Weapons System / End Item / Homogeneous Group:

JT

Tanks
Recovery Vehicle, M51/M74/M88

Accounting Requirements:

X

Expendable item.An item of Army property coded with an ARC of X in the AMDF. Expendable items require no formal accountability after issue from a stock record account.Commercial and fabricated items similar to items coded X in the AMDF are considered expendable items.
Marine Corps
Stores Account:

1

Stock Fund Account Item

Echelon Management:

56

Operational Test:

No Special Procedures
NATO Stock Numbers Related to 8145-00-856-8147
Freight Information 8145-00-856-8147
8145-00-856-8147 has freight characteristics.It has a National Motor Freight Classification (NMFC) of 041050. A Sub NMFC of B. It has a NMFC Description of CONTAINERS R VANS SHIPPING SUB2. 8145-00-856-8147 is rated as class 150 when transported by Less-Than Truckload (LTL) freight. 8145-00-856-8147 is rated as class 150 when transported by Less-Than Carload (LCL) rail or ocean freight. It has a Uniform Freight Classification (UFC) number of 30570 which rates the freight between FCL and LCL. It has a Water Commodity Code (WCC) of 691 for ocean manifesting and military sealift. 8145-00-856-8147 is not classified as a special type of cargo when transported by water. 8145-00-856-8147 is not a consolidation, but exceeds 84" in at least one dimension. It may not be compatible with a standard 72" Aircraft Cargo Door when transported by air.

Packaging Data 8145-00-856-8147
Responsible Activity

Packaging Data Source

Primary Inventory Control Activity (PICA)
Packaging Data does not meet current MIL-STD-2073-1E
Storage Environment

Uncovered Space (Open Storage)
Item Pack Level (Unpackaged)
Item Size

Item Weight

Characteristics

Weight/Dimensions Category

Fragility

Item Preservation

90.0" H x 89.5" W x 62.0" L
--
--
Over 10lb
Less than 85G
Special Requirement
Unit Pack Level (Packaged)
Quantity per Pack

Unit Size

Unit Weight

Unit Cube

Preservation Method

Cleaning/Drying

1
90.0" H x 89.5" W x 62.0" L
--
--
--
Special Requirements
Preservation Material

Wrapping Material

Cushioning/Dunnage

Cushioning Thickness

Container

Special Marking

Special Requirement
Special Requirements – see Specific Instructions or Drawings provided
Special Requirements. See Specific Instructions or Drawings Provided
Special Requirements. See Specific Instructions or Drawings Provided
Special requirement – See specific instructions or drawings provided
--
Intermediate Pack Level
Quantity of Unit Packs

Container

--