Premium Information is available for this item - Upgrade for $1 a day
6625-00-001-8063
Wattmeter
6625000018063 000018063 4017B
An instrument which measures one or more different electrical power quantities (such as decibels and watts), and is calibrated using watts. The power measurement and/or calibration may be displayed in multiples and/or submultiples thereof on a dial and/or digital readout display. For items designed to measure radio frequency power see TEST SET, ELECTRICAL POWER and METER, MULTIPLE SCALE. Excludes: AMMETER; FREQUENCY METER; MULTIMETER; VOLTMETER. View more Wattmeter

Managed by United States
NSN Created on 27 Sep 1972
Data Last Changed
May 2023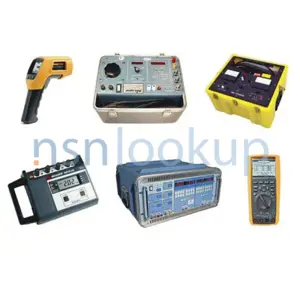 Marketplace 6625-00-001-8063
Need Help?
Request a Quotation from participating marketplace vendors
Restrictions 6625-00-001-8063
6625-00-001-8063 is a Wattmeter The DCMO has forced the Demilization requirements for this item as the ICP has not collaborated. This item is considered a low risk when released from the control of the Department of Defense. The item may still be subject to the requirements of the Export Administration Regulations (EAR) and the Code of Federal Regulations (CFR). This item may be hazardous as it is in a Federal Supply Class for potentially hazardous items. A MSDS should be available from the supplier for the end user to evaluate any hazards. This item does not contain a precious metal.
Import and Export 6625-00-001-8063
Approved Sources 6625-00-001-8063
DLA Procurement Analysis 6625-00-001-8063
Management Data 6625-00-001-8063
Effective Date

Organization
Unit of Issue
Unit Price
Qty Unit Pack

Mar 2023

Defense Logistics Agency (DS)
EA

Oct 2022

Department of the Navy (DN)
EA

Oct 2021

Department of the Navy (DN)
EA

Dec 2020

Department of the Navy (DN)
EA

Jan 2020

Department of the Navy (DN)
EA
Navy
Cognizance:

1H

Consumable material assigned to NAVICP MECH for inventory management
Naval Inventory Control Point, Mechanicsburg

Special Material ID:

TE

General Purpose Electronic Test Equipment

Issue, Repair, Requisition Restriction Code:

00

No Restriction

Special Material Content:

9

Non-Hazardous or Non-Sensitive Item
NATO Stock Numbers Related to 6625-00-001-8063