Premium Information is available for this item - Upgrade for $1 a day
6130-01-006-0619
Power Supply
6130010060619 010060619 11608337
A component which converts available alternating current or direct current electrical power into a form required to operate another component or set. The item may consist of a combination of an INVERTOR, VIBRATOR; VIBRATOR, INTERRUPTER; VIBRATOR, SELF-RECTIFYING; INVERTOR, POWER, STATIC; with a transformer and rectifier(s) employing electron tubes, semiconductor diode or metallic (dry disc) type components, or the synchronized secondary contact(s) of a VIBRATOR, SELF-RECTIFYING; or may consist of electron tubes, semiconductor diode or metallic (dry disc) type rectifiers and capacitors in transformerless (alternating current-direct current type) circuits which may be of the voltage-multiplier type. The item may incorporate a FILTER, DIRECT CURRENT POWER and provisions for regulation of input and/or output voltage. The item may have special input, output, control or other facilities for applications in specialized environments such as medical, dental or other operations. Excludes battery chargers and rotating machinery types of items, such as motor generators and dynamotors. View more Power Supply

Managed by United States
NSN Created on 12 Jul 1975
Data Last Changed
September 2023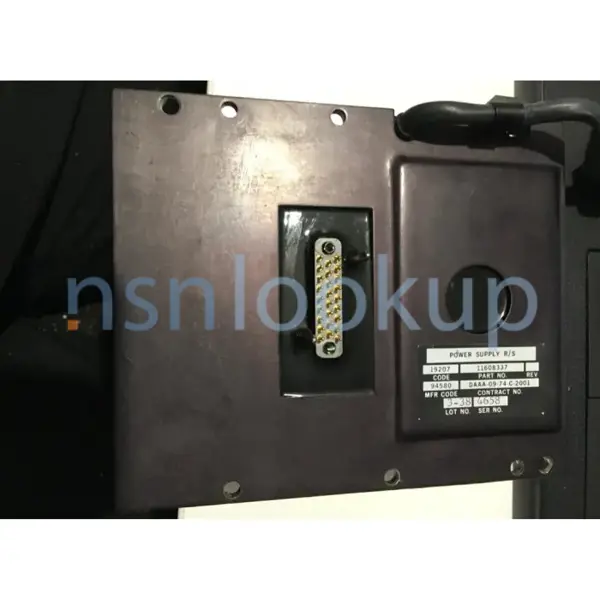 Marketplace 6130-01-006-0619
Need Help?
Request a Quotation from participating marketplace vendors
Restrictions 6130-01-006-0619
6130-01-006-0619 is a Power Supply This item has been confirmed as a Critical Munitions List Item or a Sensitive Commerce Control List Item and cannot be in the possession of any party anywhere in the World who is not an authorized NATO Government. Any other possessor of this item should mutilate it now as possession violates international and local laws. This item is a US Munitions List Item and must be mutilated to scrap. This item is not suspected to be hazardous. This item does not contain a precious metal.
Import and Export 6130-01-006-0619
End Users 6130-01-006-0619
Approved Sources 6130-01-006-0619
Datasheet 6130-01-006-0619
Characteristic

Specifications

FIIG

A39900

Electrical Power Source Relationship

[AKWC]

Operating

End Item Identification

[AGAV]

M60a1; M60a1r; M60a3; M60a3tts

Output Connection Quantity

[CWHF]

1 Single Power Output

Output Connection Type

[CWHJ]

Pin Plug Single Power Output

Input Frequency Rating

[APTQ]

400.0 Hertz Nominal Single Operating Power Rqmt

Input Connection Quantity

[CWHT]

1 Single Operating Power Rqmt

Input Voltage Rating

[APNX]

115.0 Ac Pounds Per Hour Wet Single Operating Power Rqmt

Overall Height

[ABKW]

2.100 Inches Nominal

Overall Length

[ABHP]

5.870 Inches Nominal

Overall Width

[ABMK]

5.030 Inches Nominal
Management Data 6130-01-006-0619
Effective Date

Organization
Unit of Issue
Unit Price
Qty Unit Pack

Oct 2022

Department of the Army (DA)
EA

Oct 2021

Department of the Army (DA)
EA

Oct 2020

Department of the Army (DA)
EA

Oct 2019

Department of the Army (DA)
EA

Jun 2014

US Marine Corps (DM)
EA
Army
Materiel Category and Inventory Manager:

M

Ammunition weapons, and tracked combat vehicles weapons, special weapons, chemical and fire control materiel

Appropriation and Budget Activity:

2

Stock Fund Secondary Items

Management Inventory Segment:

1

Repairable Items(Exclusive of Insurance and Provisioning Items)
This code will be used to identify serviceable or unserviceable items of a durable nature, which when unserviceable normally can be repaired economically by depots or lower echelons of maintenance.

Weapons System / End Item / Homogeneous Group:

JH

Tanks
Tank, 105mm, M60A3, TTS

Accounting Requirements:

X

Expendable item.An item of Army property coded with an ARC of X in the AMDF. Expendable items require no formal accountability after issue from a stock record account.Commercial and fabricated items similar to items coded X in the AMDF are considered expendable items.
Marine Corps
Stores Account:

1

Stock Fund Account Item

Combat Essentiality:

2

Non-Critical Repair Part

Echelon Management:

41

Operational Test:

No Special Procedures

Physical Category:

1

Bin
NATO Stock Numbers Related to 6130-01-006-0619
Freight Information 6130-01-006-0619
6130-01-006-0619 has freight characteristics.It has a National Motor Freight Classification (NMFC) of 133300. A Sub NMFC of Z. It has a NMFC Description of MACHINERY/MACHINES NOI. 6130-01-006-0619 is rated as a variable freight class when transported by Less-Than Truckload (LTL) freight. It has a Uniform Freight Classification (UFC) number of 63220 which rates the freight between FCL and LCL. 6130-01-006-0619 has a variance between NMFC and UFC when transported by rail and the description should be consulted. It has a Water Commodity Code (WCC) of 72D for ocean manifesting and military sealift. 6130-01-006-0619 is not classified as a special type of cargo when transported by water. 6130-01-006-0619 is not a consolidation and does not exceed 84" in any dimension. It should be compatible with a standard 72" Aircraft Cargo Door when transported by air.

Packaging Data 6130-01-006-0619
Responsible Activity

Packaging Data Source

Primary Inventory Control Activity (PICA)
Packaging Data does not meet current MIL-STD-2073-1E
Storage Environment

Unheated General Purpose
Item Pack Level (Unpackaged)
Item Size

Item Weight

Characteristics

Weight/Dimensions Category

Fragility

Item Preservation

--
--
--
Over 10lb
Less than 85G
Special Requirement
Unit Pack Level (Packaged)
Quantity per Pack

Unit Size

Unit Weight

Unit Cube

Preservation Method

Cleaning/Drying

1
8.4" H x 6.0" W x 3.1" L
--
--
--
Special Requirements
Preservation Material

Wrapping Material

Cushioning/Dunnage

Cushioning Thickness

Container

Special Marking

Special Requirement
Special Requirements – see Specific Instructions or Drawings provided
Special Requirements. See Specific Instructions or Drawings Provided
Special Requirements. See Specific Instructions or Drawings Provided
Special requirement – See specific instructions or drawings provided
--
Intermediate Pack Level
Quantity of Unit Packs

Container

--