5935-01-662-1206
Electrical Receptacle Connector
5935016621206 016621206 233-104-07-ZR-17L-75PA-01 GD00671454
An electrical fitting with electrical contacts constructed to be affixed to the end of a cable, conduit, coaxial line, cord, wire (includes printed/etched), PRINTED WIRING BOARD, or the like for convenience in joining with another electrical connector(s) or PRINTED WIRING BOARD. It is designed to be mounted on a bulkhead, chassis, panel, wall, PRINTED WIRING BOARD, or the like. Excludes LAMPHOLDER; JACK, TELEPHONE; JACK, TIP; INSERT ELECTRICAL CONNECTOR; INSERT MODULE, ELECTRICAL CONNECTOR; CONNECTOR BODY (as modified) and SOCKET, PLUG-IN ELECTRONIC COMPONENTS. See also WIRING HARNESS (as modified) and CABLE ASSEMBLY (as modified). For items with termination wires of more than four inches in length, see LEAD ASSEMBLY, ELECTRICAL. For items without inserts, see SHELL, ELECTRICAL CONNECTOR. View more Electrical Receptacle Connector
Managed by United States
NSN Created on 27 Mar 2017
Data Last Changed
January 2023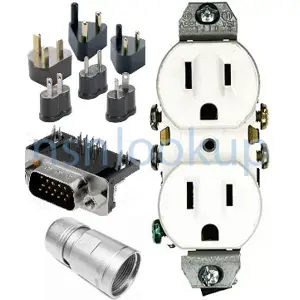 Marketplace 5935-01-662-1206
Need Help?
Request a Quotation from participating marketplace vendors
Restrictions 5935-01-662-1206
5935-01-662-1206 is a Electrical Receptacle Connector that does not have a nuclear hardened feature or any other critical feature such as tolerance, fit restriction or application. Demilitarization of this item has been confirmed and is not currently subject to changes. This item is considered a low risk when released from the control of the Department of Defense. The item may still be subject to the requirements of the Export Administration Regulations (EAR) and the Code of Federal Regulations (CFR). This item may be hazardous as it is in a Federal Supply Class for potentially hazardous items. A MSDS should be available from the supplier for the end user to evaluate any hazards. This item does not contain a precious metal.
Import and Export 5935-01-662-1206
End Users 5935-01-662-1206
MOE Rule:

ZK01

Effective Date:

1 Mar 2017
Approved Sources 5935-01-662-1206
NATO Stock Numbers Related to 5935-01-662-1206
Freight Information 5935-01-662-1206
5935-01-662-1206 has freight characteristics.. 5935-01-662-1206 has a variance between NMFC and UFC when transported by rail and the description should be consulted.