Screws
Federal Supply Class (FSC): 5305
NATO Supply Classification Class (NSC): 5305
Group Description: Hardware and Abrasives
Federal Supply Group (FSG): 53
NATO Supply Classification Group (NSG): 53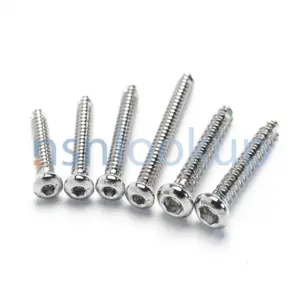 Screw Fastening System Advantage
Compared with other fastening systems, nuts and screws has the advantage that they can be disassembled as needed, while other fasteners such as rivets are designed for permanent installation. Screws are often used with nuts and washers, where the washer provides an increase in surface area over which the attachment force is applied. There are a variety of different types of nuts that can be used with a screw, the most common one being hex nuts. Other nut types include:
Prevailing Torque Locknuts
Nylon Insert Locknuts
K-Lock Locknuts
Slotted Hex (Castle) Nuts
Flange Nuts
Cap Nuts
Coupling Nuts
Wing Nuts)
Square Nuts
Panel Nuts
Surface Mount Nuts
Rivet Nuts
Nuts and screws can be used to join dissimilar materials together including wood, sheet metal, steel, iron, and polymers. Nuts can lock themselves in place with additional friction or, such as with slotted hex nuts, they can be used with a mating screw and a
cotter pin
to securely lock the nut in place.
Hand
manual tools
or
power tools
are available to manipulate screws and nuts including screwdrivers, socket sets, open-end wrenches, box wrenches, and powered drivers.
Screw Categories with NATO Stock Numbers
AN - an acronym for "Army and Navy" and sometimes "Air Force and Navy", AN screws are characterized by their specification and quality control. AN Screws are industrial aircraft screws and are manufactured according to Air Force-Navy specs. They are manufactured from cadmium or zinc plated corrosion resistant steel, unplated corrosion-resistant steel, and anodized aluminum alloys. Length, grip, diameter, drilled head, and shank are the different variables within an AN screw part number. They can be used for both ductile and/or shear applications and are coded to a specific standard. To the untrained eye, AN screws look like ordinary screws. They feature a partially threaded shank with a head. Like with most other screws, they are designed to secure multiple parts together. AN screws can be inserted through the threaded holes of two or more parts, after which they will hold the parts together. AN screws are distinguished from ordinary screws by their specification and rigorous quality control. The AN specification is the predecessor to the Military Specifications (MS or Mil-Spec) which is currently used by the US military. Current AN screws are used extensively in aerospace and aviation for their measurable reliability. AN Screws are also used in many fastening applications where their form, function and reliability are desired. AN Screws are typically only used in applications where the additional cost of the specification, quality and reliability is justified.
NAS screws comply with the National Aerospace Standard and are commonly used for high technology systems. NAS screws are necessary for high strength applications and consist of a fine-threaded, dimple headed hex screw. Material markings for NAS screws are the same as AN screws, except they may be either raised or recessed.
NASM screws include precision fasteners that previously fell under MIL-spec requirements and were converted to NASM specifications by the Aerospace Industries Association. The "MS" portion of the part number indicates the specification it meets (ex. MS16997).
MS screws have been tested and certified to Military Standard for use in high-performance applications. Military Standard screws are available with either coarse or fine threads and are made from a range of materials with different finishes.

Socket head cap screws with a UNC Coarse Thread

NA Screws are the most recent standard covering the requirements for metric aerospace fasteners.
Frequently Asked Questions (FAQ) for Federal Supply Class 5305
What is Federal Supply Class 5305?

FSC 5305 is the Federal Supply Class (formally known as NATO Supply Classification Class NSC 5305) in the USA for supply items codified in the category of Screws.

What is NATO Supply Classification Class 5305?

NSC 5305 is the NATO Supply Classification Class (also known as Federal Supply Class FSC 5305 in the USA) for supply items codified in the category of Screws.

Which Federal Supply Group is FSC 5305 in?

FSC 5305 is in Federal Supply Group (FSG) 53 which contains .

Which NATO Supply Classification Group is NSC 5305 in?

NSC 5305 is in NATO Supply Classification Group (NSG) 53 which contains .
Supply Items Included in Federal Supply Class 5305
What is an Externally Relieved Body Screw?

14572 Items

What is a Wood Screw?

9464 Items

What is an Instrument Screw?

864 Items

What is a Machine Screw?

137539 Items

What is an Assembled Washer Screw?

3516 Items

What is a Setscrew?

40493 Items

What is a Thumbscrew?

6964 Items

What is an Eye Screw?

284 Items

What is a Drive Screw?

1241 Items

What is a Screw Assortment?

716 Items

What is a Socket Head Cap Screw?

79837 Items

What is a Machine Screw And Nut And Washer Assortment?

738 Items

What is a Screw And Nail Assortment?

34 Items

What is a Hexagon Head Cap Screw?

66929 Items

What is a Panel Fastener Screw?

636 Items

What is a Shoulder Screw?

14639 Items

What is a Close Tolerance Screw?

18158 Items

What is a Panel Screw Assembly?

3034 Items

What is a Lag Screw?

651 Items

What is a Self-Drilling Screw?

503 Items

SCREW,LOCK PLATE

104 Items

What is a Tapping Screw?

9707 Items