Premium Information is available for this item - Upgrade for $1 a day
2620-01-235-2028
Aircraft Pneumatic Tire
2620012352028 012352028 MIL-DTL-5041 461B-3607-TL 36X11.0R18 M06104 MIL-PRF-5041 M06102 M03801
A mechanical device made of rubber, chemicals, fabric and steel or other materials, which, mounted on an aircraft wheel, provides the traction and contains the fluid that sustains the load. Tube type tires are of a form to inclose an inner tube containing air under pressure. Tubeless tires incorporate carcass materials and construction to provide fluid retention equal to that of a conventional tire and tube. View more Aircraft Pneumatic Tire
Managed by United States
NSN Created on 26 Jun 1986
Data Last Changed
November 2023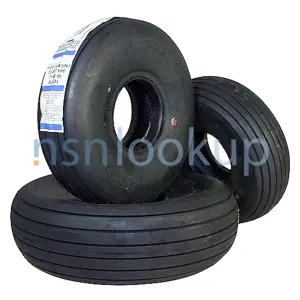 Marketplace 2620-01-235-2028
Need Help?
Request a Quotation from participating marketplace vendors
Restrictions 2620-01-235-2028
2620-01-235-2028 is a Aircraft Pneumatic Tire that does not have a nuclear hardened feature or any other critical feature such as tolerance, fit restriction or application. Demilitarization of this item has been confirmed and is not currently subject to changes. This item is considered a low risk when released from the control of the Department of Defense. The item may still be subject to the requirements of the Export Administration Regulations (EAR) and the Code of Federal Regulations (CFR). This item is not suspected to be hazardous. This item does not contain a precious metal.
Import and Export 2620-01-235-2028
End Users 2620-01-235-2028
US Air Force (FUGG)

Effective Date:

1 Mar 2007

Former MOE Rule:

FUU5
Approved Sources 2620-01-235-2028
Datasheet 2620-01-235-2028
Characteristic

Specifications

FIIG

A504S0

End Item Identification

[AGAV]

F-15E, Mlg

Features Provided

[CBBL]

No Flaps

Material

[MATT]

Rubber Natural

Maximum Inflation Pressure

[AAGL]

305.0 Pounds Per Square Inch

Service Type

[CZMH]

Aircraft Main Wheel

Tire Load Maximum Capacity

[CRDX]

35800.0 Pounds Load Limits

Tire Ply Arrangement

[CQTK]

Radial

Tire Strength

[CRTN]

30 Ply Rating

Tire Air Retention Method

[CQCX]

Tubeless Type

Tire And Size Designation

[CYFM]

36X11 Numeric

Tread Pattern

[AAGC]

Rib
Weapon Systems (WSDC) 2620-01-235-2028
DLA Procurement Analysis 2620-01-235-2028
Management Data 2620-01-235-2028
Air Force
Fund:

SF

Stock fund applicable to items managed for the Air Force by the respective Inventory Control Point

Budget:

9

57X4921.070 - General Support DIV - Air Force decentralized managed expense items (ERRC XB3, XF3) with a unit cost of less than $250,000 that are requisitioned/procured at base (retail) level from DLA, GSA, Army, Navy, Depot Maintenance Service, Air Force Industrial Fund (AFMC), local manufacture and commercial vendors

Price Validation Code:

V

The current standard price has been validated.
The item has been analyzed in conjunction with the Zero Overpricing Program and is in the accepted price range.
The item was procured under open competition and under the competitive arena the price is considered fair and reasonable.
ZOP or Standard price challenges are permissible but must be supported by adequate justification.
NATO Stock Numbers Related to 2620-01-235-2028
Freight Information 2620-01-235-2028
2620-01-235-2028 has freight characteristics.It has a National Motor Freight Classification (NMFC) of 157230. A Sub NMFC of X. It has a NMFC Description of PLASTIC/RUBR TIRES PNEU NOI. 2620-01-235-2028 is rated as class 110 when transported by Less-Than Truckload (LTL) freight. 2620-01-235-2028 is rated as class 70 when transported by Less-Than Carload (LCL) rail or ocean freight. It has a Uniform Freight Classification (UFC) number of 84460 which rates the freight between FCL and LCL. 2620-01-235-2028 has a variance between NMFC and UFC when transported by rail and the description should be consulted. It has a Water Commodity Code (WCC) of 671 for ocean manifesting and military sealift. 2620-01-235-2028 is not classified as a special type of cargo when transported by water. 2620-01-235-2028 is not a consolidation and does not exceed 84" in any dimension. It should be compatible with a standard 72" Aircraft Cargo Door when transported by air.

Packaging Data 2620-01-235-2028
Responsible Activity

Packaging Data Source

Primary Inventory Control Activity (PICA)
--
Item Pack Level (Unpackaged)
Item Size

Item Weight

Characteristics

Weight/Dimensions Category

Fragility

Item Preservation

--
--
--
--
--
Unit Pack Level (Packaged)
Quantity per Pack

Unit Size

Unit Weight

Unit Cube

Preservation Method

Cleaning/Drying

1
--
--
--
--
--
Preservation Material

Wrapping Material

Cushioning/Dunnage

Cushioning Thickness

Container

Special Marking

--
--
--
--
--
No special marking
Intermediate Pack Level
Quantity of Unit Packs

Container

See Method of Preservation
--
Procurement History 2620-01-235-2028
Most Recent 1000 Records
Contract

Date
CAGE
Quantity
Net Price
Std Price

SPE7LX24F1904

SPE7LX24F1507

SPE7LX24F1160

SPE7LX24F0833

SPE7LX23F28AK

SPE7LX23F25NN

SPE7LX23F19ZH

SPE7LX23F19ZH

SPE7LX23F18TJ

SPE7LX23F18TJ

SPE7LX23F18PB

SPE7LX23F18PB

SPE7LX23F15FA

SPE7LX23F15NQ

SPE7LX23F15FA

SPE7LX23F15NQ

SPE7LX23F13EU

SPE7LX23F13EU

SPE7LX23F10ZZ

SPE7LX23F10ZZ

SPE7LX23F09TX

SPE7LX23F09TX

SPE7LX23F05YD

SPE7LX23F05YD

SPE7LX23F03QK

SPE7LX23F04BB

SPE7LX23F04AP

SPE7LX23F03QK

SPE7LX23F04AP

SPE7LX23F04BB

SPE7LX23F02ZJ

SPE7LX23F02ZJ

SPE7LX23F01KN

SPE7LX23F01KN

SPE7LX23F01DLP00001

SPE7LX23F01EP

SPE7LX23F01DLP00001

SPE7LX23F01EP

SPE7LX23F99F4

SPE7LX23F99F4

SPE7LX23F98C3

SPE7LX23F98C3

SPE7LX23F86A5

SPE7LX23F86A5

SPE7LX23F85V9

SPE7LX23F84X4

SPE7LX23F85V9

SPE7LX23F84X4

SPE7LX23F83L3

SPE7LX23F83L3

SPE7LX23F79Y2

SPE7LX23F79Y2

SPE7LX23F74Y6

SPE7LX23F74Y6

SPE7LX23F74J2

SPE7LX23F74J2

SPE7LX23F72S8

SPE7LX23F72S8

SPE7LX23F70D2

SPE7LX23F70D2

SPE7LX23F67Y2

SPE7LX23F67Y2

SPE7LX23F66S7

SPE7LX23F66S7

SPE7LX23F60M6

SPE7LX23F60M6

SPE7LX23F59G5

SPE7LX23F59G5

SPE7LX23F55J6

SPE7LX23F55J6

SPE7LX23F55J1

SPE7LX23F55J1

SPE7LX23F54X6

SPE7LX23F54X6

SPE7LX23F54D7

SPE7LX23F54D7

SPE7LX23F53Y6

SPE7LX23F52V4

SPE7LX23F52W4

SPE7LX23F53Y6

SPE7LX23F52V4

SPE7LX23F52W4

SPE7LX23F50X8

SPE7LX23F50X8

SPE7LX23F50J2

SPE7LX23F50J2

SPE7LX23F39P2

SPE7LX23F39P2

SPE7LX23F37P9

SPE7LX23F37P9

SPE7LX23F22L5

SPE7LX23F22L5

SPE7LX23F19S5

SPE7LX23F19S5

SPE7LX23F18J7

SPE7LX23F18J7

SPE7LX23F16T9

SPE7LX23F16T9

SPE7LX23F12N8

SPE7LX23F12N8

SPE7LX23F08G9

SPE7LX23F08G9

SPE7LX23F986U

SPE7LX23F986U

SPE7LX23F781E

SPE7LX23F781E

SPE7LX23F712U

SPE7LX23F712U

SPE7LX23F682U

SPE7LX23F682U

SPE7LX23F522S

SPE7LX23F522S

SPE7LX23F501Q

SPE7LX23F501Q

SPE7LX23F378W

SPE7LX23F378W

SPE7LX23F343N

SPE7LX23F343N

SPE7LX22F33KP

SPE7LX22F33RN

SPE7LX22F29UE

SPE7LX22F27NC

SPE7LX22F26XP

SPE7LX22F24TZ

SPE7LX22F23JL

SPE7LX22F22QS

SPE7LX22F19YX

SPE7LX22F19YX

SPE7LX22F17EN

SPE7LX22F17EN

SPE7LX22F13AW

SPE7LX22F13DP

SPE7LX22F13PK

SPE7LX22F13AW

SPE7LX22F13DP

SPE7LX22F13PK

SPE7LX22F08WQ

SPE7LX22F08WQ

SPE7LX22F07BR

SPE7LX22F07FF

SPE7LX22F06ZP

SPE7LX22F07KG

SPE7LX22F07BR

SPE7LX22F07FF

SPE7LX22F07KG

SPE7LX22F06ZP

SPE7LX22F06JU

SPE7LX22F06JU

SPE7LX22F04FD

SPE7LX22F04FD

SPE7LX22F03QT

SPE7LX22F03QT

SPE7LX22F02UK

SPE7LX22F02UZ

SPE7LX22F02UL

SPE7LX22F02UK

SPE7LX22F02UZ

SPE7LX22F02UL

SPE7LX22F00EE

SPE7LX22F00EE

SPE7LX22F89Q5

SPE7LX22F89Q5

SPE7LX22F82B5

SPE7LX22F82B5

SPE7LX22F79D8

SPE7LX22F79D8

SPE7LX22F77X2

SPE7LX22F77X2

SPE7LX22F74Y1

SPE7LX22F75B6

SPE7LX22F74Y1

SPE7LX22F75B6

SPE7LX22F73T4

SPE7LX22F73T2

SPE7LX22F73T0

SPE7LX22F73T4

SPE7LX22F73T2

SPE7LX22F73T0

SPE7LX22F58P2

SPE7LX22F58P2

SPE7LX22F55K9

SPE7LX22F55K9

SPE7LX22F39W8

SPE7LX22F39W8

SPE7LX22F30T8

SPE7LX22F30T8

SPE7LX22F28S4

SPE7LX22F28S4

SPE7LX22F23V5

SPE7LX22F23V5

SPE7LX22F18F7

SPE7LX22F20L8

SPE7LX22F20L8

SPE7LX22F18F7

SPE7LX22F14X9

SPE7LX22F14X9

SPE7LX22F10K8

SPE7LX22F10K8

SPE7LX22F993M

SPE7LX22F993M

SPE7LX22F956J

SPE7LX22F956J

SPE7LX22F836M

SPE7LX22F836M

SPE7LX22F742N

SPE7LX22F742N

SPE7LX22F706M

SPE7LX22F706M

SPE7LX22F673K

SPE7LX22F673K

SPE7LX22F526G

SPE7LX22F526G

SPE7LX22F470G

SPE7LX22F470G

SPE7LX22F455S

SPE7LX22F455S

SPE7LX22F406F

SPE7LX22F406F

SPE7LX22F391V

SPE7LX22F391V

SPE7LX22F350MP00001

SPE7LX22F350MP00001

SPE7LX22F324W

SPE7LX22F324W

SPE7LX22F308B

SPE7LX22F308B

SPE7LX22F285G

SPE7LX22F285G

SPE7LX22F281D

SPE7LX22F279N

SPE7LX22F281T

SPE7LX22F279N

SPE7LX22F281D

SPE7LX22F281T

SPE7LX22F254S

SPE7LX22F254S

SPE7LX22F129D

SPE7LX22F129D

SPE7L122F231U

SPE7L122F231U

SPE7L122F218W

SPE7L122F216M

SPE7L122F216M

SPE7L122F218W

SPE7L122F124S

SPE7L122F124S

SPE7L122F090R

SPE7L122F090R

SPE7L122F063N

SPE7L122F063N

SPE7L122F9338

SPE7L122F9338

SPE7L122F9051

SPE7L122F9051

SPE7L122F8864

SPE7L122F8864

SPE7L122F7609

SPE7L122F7729

SPE7L122F7715

SPE7L122F7729

SPE7L122F7715

SPE7L122F7609

SPE7L122F6556

SPE7L122F6564

SPE7L122F6556

SPE7L122F6564

SPE7L122F5972

SPE7L122F5978

SPE7L122F5972

SPE7L122F5978

SPE7L122F5326

SPE7L122F5326

SPE7L122F4776

SPE7L122F4776

SPE7L122F4407

SPE7L122F4407

SPE7L122F1741

SPE7L122F1757

SPE7L122F1757

SPE7L122F1741

SPE7L122F1518

SPE7L122F1454

SPE7L122F1454

SPE7L122F1518

SPE7L121F03KU

SPE7L121F03KU

SPE7L121F01YS

SPE7L121F01YS

SPE7L121F99U4

SPE7L121F99U4

SPE7L121F91Q5

SPE7L121F91Q5

SPE7L121F90S2

SPE7L121F90U4

SPE7L121F90R8

SPE7L121F90Q3

SPE7L121F90W9

SPE7L121F90R8

SPE7L121F90Q3

SPE7L121F90S2

SPE7L121F90W9

SPE7L121F90U4

SPE7L121F89W4

SPE7L121F89W4

SPE7L121F89K0

SPE7L121F89K0

SPE7L121F84F3

SPE7L121F84M8

SPE7L121F84M8

SPE7L121F84F3

SPE7L121F69G2

SPE7L121F69G2

SPE7L121F67X2

SPE7L121F68C1

SPE7L121F67X2

SPE7L121F68C1

SPE7L121F67B4P00001

SPE7L121F67B4P00001

SPE7L121F66E0

SPE7L121F66E0

SPE7L121F64T0

SPE7L121F64T0

SPE7L121F60G1

SPE7L121F60G1

SPE7L121F57P7

SPE7L121F58A6

SPE7L121F57P7

SPE7L121F58A6

SPE7L121F56B6

SPE7L121F56B6

SPE7L121F54P6

SPE7L121F54P6

SPE7L121F53V8

SPE7L121F53V8

SPE7L121F53F2

SPE7L121F53F2

SPE7L121F50Z8

SPE7L121F50Z8

SPE7L121F49V4

SPE7L121F49V4

SPE7L121F48K3

SPE7L121F48K3

SPE7L121F47E8

SPE7L121F47T2

SPE7L121F47E8

SPE7L121F47T2

SPE7L121F45A8

SPE7L121F45A8

SPE7L121F43F3

SPE7L121F43F3

SPE7L121F42G1

SPE7L121F42G1

SPE7L121F40U0

SPE7L121F40U1

SPE7L121F40T7

SPE7L121F40U1

SPE7L121F40T7

SPE7L121F40U0

SPE7L121F39Z8

SPE7L121F39Z8

SPE7L121F37D2

SPE7L121F37E7

SPE7L121F37Q4

SPE7L121F37D2

SPE7L121F37Q4

SPE7L121F37E7

SPE7L121F34P2

SPE7L121F33P5

SPE7L121F34J6

SPE7L121F34P6

SPE7L121F34P4

SPE7L121F34P5

SPE7L121F34P3

SPE7L121F34F9

SPE7L121F33P5

SPE7L121F34J6

SPE7L121F34P6

SPE7L121F34P2

SPE7L121F34P3

SPE7L121F34P5

SPE7L121F34F9

SPE7L121F34P4

SPE7L121F29Z0

SPE7L121F29U2

SPE7L121F29Y9

SPE7L121F29U2

SPE7L121F29Z0

SPE7L121F29Y9

SPE7L121F28R8

SPE7L121F28R8

SPE7L121F25E2

SPE7L121F25E2

SPE7L121F24B0

SPE7L121F24B0

SPE7L121F22B4

SPE7L121F22B4

SPE7L121F20N2

SPE7L121F20N2

SPE7L121F19M8

SPE7L121F19M8

SPE7L121F19M4

SPE7L121F19M5

SPE7L121F19M4

SPE7L121F19M5

SPE7L121F19K1

SPE7L121F19K1

SPE7L121F18V9

SPE7L121F18V9

SPE7L121F14Q5

SPE7L121F14Q5

SPE7L121F13G6

SPE7L121F13G6

SPE7L121F12J7

SPE7L121F12S9

SPE7L121F12J4

SPE7L121F12G8

SPE7L121F12K8

SPE7L121F12T6

SPE7L121F12J7

SPE7L121F12G8

SPE7L121F12K8

SPE7L121F12S9

SPE7L121F12T6

SPE7L121F12J4

SPE7L121F11D6

SPE7L121F11J5

SPE7L121F11J7

SPE7L121F10Z4

SPE7L121F11K2

SPE7L121F11J7

SPE7L121F10Z4

SPE7L121F11D6

SPE7L121F11K2

SPE7L121F11J5

SPE7L121F07Y1

SPE7L121F07Y1

SPE7L121F00R0

SPE7L121F00R0

SPE7L121F943W

SPE7L121F943W

SPE7L121F940M

SPE7L121F940M

SPE7L121F928K

SPE7L121F934C

SPE7L121F928M

SPE7L121F928K

SPE7L121F928M

SPE7L121F934C

SPE7L121F892F

SPE7L121F892F

SPE7L121F856D

SPE7L121F856D

SPE7L121F848Z

SPE7L121F848Z

SPE7L121F752H

SPE7L121F750H

SPE7L121F750H

SPE7L121F752H

SPE7L121F730G

SPE7L121F730G

SPE7L121F679H

SPE7L121F679H

SPE7L121F646L

SPE7L121F646F

SPE7L121F646F

SPE7L121F646L

SPE7L121F643C

SPE7L121F643C

SPE7L121F623Z

SPE7L121F623Z

SPE7L121F542U

SPE7L121F540U

SPE7L121F540U

SPE7L121F542U

SPE7L121F532W

SPE7L121F532W

SPE7L121F422A

SPE7L121F422A

SPE7L121F372L

SPE7L121F372P

SPE7L121F372J

SPE7L121F372N

SPE7L121F372J

SPE7L121F372N

SPE7L121F372L

SPE7L121F372P

SPE7L121F345P

SPE7L121F345P

SPE7L121F319S

SPE7L121F319S

SPE7L121F286P

SPE7L121F286Q

SPE7L121F286N

SPE7L121F288W

SPE7L121F286P

SPE7L121F286Q

SPE7L121F286N

SPE7L121F288W

SPE7L121F201Q

SPE7L121F201S

SPE7L121F201Q

SPE7L121F201S

SPE7L121F185F

SPE7L121F185F

SPE7L121F180G

SPE7L121F180G

SPE7L121F161M

SPE7L121F161M

SPE7L121F135P

SPE7L121F138J

SPE7L121F138J

SPE7L121F135P

SPE7L121F118U

SPE7L121F118U

SPE7L121F108U

SPE7L121F108U

SPE7L121F087HP00001

SPE7L121F087HP00001

SPE7L119F151U

SPE7L119F140DP00001

SPE7L119F140J

SPE7L119F131N

SPE7L119F126W

SPE7L119F127B

SPE7L119F125N

SPE7L119F125S

SPE7L119F124E

SPE7L119F120X

SPE7L119F118Y

SPE7L119F119D

SPE7L119F113P

SPE7L119F098D

SPE7L119F097T

SPE7L119F098C

SPE7L119F099E

SPE7L119F095E

SPE7L119F090N

SPE7L119F095D

SPE7L119F071G

SPE7L119F080K

SPE7L119F066C

SPE7L119F069S

SPE7L119F069B

SPE7L119F069L

SPE7L119F069R

SPE7L119F060A

SPE7L119F059Y

SPE7L119F050G

SPE7L119F052L

SPE7L119F052N

SPE7L119F052M

SPE7L119F051P

SPE7L119F052P

SPE7L119F035W

SPE7L119F031W

SPE7L119F032B

SPE7L119F025R

SPE7L119F020Y

SPE7L119F9954

SPE7L119F9953

SPE7L119F000W

SPE7L119F002T

SPE7L119F9957

SPE7L119F9968

SPE7L119F9974

SPE7L119F001V

SPE7L119F002F

SPE7L119F8729

SPE7L119F8736

SPE7L119F8737

SPE7L119F8748

SPE7L119F8740

SPE7L119F8063

SPE7L119F8082

SPE7L119F8068

SPE7L119F7886

SPE7L119F7500

SPE7L119F7502

SPE7L119F6760

SPE7L119F6475

SPE7L119F4691

SPE7L119F3811

SPE7L119F3378

SPE7L119F2867

SPE7L119F2728

SPE7L119F2859

SPE7L119F2662

SPE7L119F1374

SPE7L119F1013

SPE7L119F0616

SPE7L119F0701

SPE7L119F0026

SPE7L118F23CL

SPE7L118F23HF

SPE7L118F22MX

SPE7L118F22MY

SPE7L118F21ZT

SPE7L118F22AD

SPE7L118F21ZR

SPE7L118F22AC

SPE7L118F21KX

SPE7L118F21KW

SPE7L118F20PM

SPE7L118F19ZB

SPE7L118F20AU

SPE7L118F19SB

SPE7L118F18CL

SPE7L118F18BH

SPE7L118F17UL

SPE7L118F13CE

SPE7L118F12YA

SPE7L118F13DZ

SPE7L118F13DJ

SPE7L118F13DY

SPE7L118F13BW

SPE7L118F13CB

SPE7L118F13DB

SPE7L118F13CS

SPE7L118F13CN

SPE7L118F13DW

SPE7L118F13EA

SPE7L118F12KL

SPE7L118F10TR

SPE7L118F09NN

SPE7L118F09NE

SPE7L118F08FX

SPE7L118F08DW

SPE7L118F07SL

SPE7L118F07SU

SPE7L118F07GN

SPE7L118F06VQ

SPE7L118F06VL

SPE7L118F06HB

SPE7L118F04VE

SPE7L118F01HM

SPE7L118F01JA

SPE7L118F01JF

SPE7L118F00ZY

SPE7L118F00ZU

SPE7L118F00ND

SPE7L118F00JJ

SPE7L118F99A8

SPE7L118F99Q3

SPE7L118F98R3

SPE7L118F98W6

SPE7L118F98G9

SPE7L118F96U7

SPE7L118F94S6

SPE7L118F94C0

SPE7L118F94B1

SPE7L118F93D3

SPE7L118F91Y4

SPE7L118F92J5

SPE7L118F91C6

SPE7L118F91A1

SPE7L118F88X4

SPE7L118F89Q7

SPE7L118F88L6

SPE7L118F88P4

SPE7L118F88D5

SPE7L118F88G6

SPE7L118F86X5

SPE7L118F83X4

SPE7L118F80D9

SPE7L118F79R0

SPE7L118F75K3

SPE7L118F75F9

SPE7L118F73D6

SPE7L118F71R9

SPE7L118F71A5

SPE7L118F70V3

SPE7L118F69T3

SPE7L118F68T2

SPE7L118F67M0

SPE7L118F65V9

SPE7L118F64M8

SPE7L118F63V4

SPE7L118F60X7

SPE7L118F60X5

SPE7L118F60H2

SPE7L118F60A8

SPE7L118F59X6

SPE7L118F55E4

SPE7L118F50W3

SPE7L118F46V8

SPE7L118F47E6

SPE7L118F43Z9

SPE7L118F38N6

SPE7L118F37R0

SPE7L118F36G2

SPE7L118F32E5

SPE7L118F32N1

SPE7L118F262E

SPE7L118F238ZP00001

SPE7L118F207WP00001

SPE7L118F200A

SPE7L118F082C

SPE7L118F072Z

SPE7L118F021H

SPE7L118F001W

SPE7L118F8436

SPE7L118F8490

SPE7L118F8471

SPE7L118F8563

SPE7L118F8479

SPE7L118F7887

SPE7L118F6615

SPE7L118F5674

SPE7L118F5665P00001

SPE7L118F5678P00001

SPE7L118F5659P00001

SPE7L118F4730

SPE7L118F4729

SPE7L118F4728

SPE7L118F4410

SPE7L118F4408

SPE7L118F4138

SPE7L118F3841

SPE7L118F3332

SPE7L118F3319

SPE7L118F2392

SPE7L118F1643

SPE7L118F1432

SPE7L118F1034

SPE7L118F0628

SPE7L118F0677

SPE7L118F0594

SPE7L118F0527

SPE7L118F0513

SPE7L118F0521

SPE7L118F0523

SPE7L118F0510

SPE7L118F0224

SPE7L118F0225

SPE7L117D00130512

SPE7L117D00130341

SPE7L116D000675D201

SPE7L116D000674A3

SPE7L116D000673E6

SPE7L116D000673N7

SPE7L116D000671Q7

SPE7L116D000671R0

SPE7L116D000670G3

SPE7L116D000670H3

SPE7L116D000669S0

SPE7L116D000668Z3

SPE7L116D000668Z1

SPE7L116D000668M4

SPE7L116D000668A4

SPE7L116D000668C8

SPE7L116D000667N2

SPE7L116D000667C4

SPE7L116D000667C8

SPE7L116D000666C4

SPE7L116D000666C6

SPE7L116D000666B0

SPE7L116D000666B3

SPE7L116D000666C9

SPE7L116D000666B7

SPE7L116D000666D0

SPE7L116D000665N3

SPE7L116D000665F0

SPE7L116D000664V3

SPE7L116D000664G1

SPE7L116D000664G5

SPE7L116D000664K4

SPE7L116D000664F2

SPE7L116D000664B3

SPE7L116D000663K3

SPE7L116D000663C4

SPE7L116D000661Z4

SPE7L116D000660W8

SPE7L116D000660V1

SPE7L116D000660C7

SPE7L116D000658X8

SPE7L116D000658J9

SPE7L116D000658A9

SPE7L116D000657E2

SPE7L116D000656Y9

SPE7L116D000656G1

SPE7L116D000656J1

SPE7L116D000656N2

SPE7L116D000656C3

SPE7L116D000656C5

SPE7L116D000653V8

SPE7L116D000653Y0

SPE7L116D000653A1

SPE7L116D000653C5

SPE7L116D000652U4

SPE7L116D000652C2

SPE7L116D000652A4

SPE7L116D000651Z6

SPE7L116D000652A1

SPE7L116D000650H0

SPE7L116D000649P0

SPE7L116D000648X1

SPE7L116D000649C2

SPE7L116D000648W5

SPE7L116D000646D0

SPE7L116D000645U7

SPE7L116D000645V8

SPE7L116D000644V9

SPE7L116D000644N7

SPE7L116D000643S7

SPE7L116D000643V7

SPE7L116D000643V2

SPE7L116D000643H5

SPE7L116D000642Z3

SPE7L116D000642X2

SPE7L116D000642A5

SPE7L116D000641S0

SPE7L116D000640C2

SPE7L116D000638Q8

SPE7L116D000637U3

SPE7L116D000637T7

SPE7L116D000637L2

SPE7L116D000636D2

SPE7L116D000633M8

SPE7L116D000632V7

SPE7L116D000632D9

SPE7L116D000630W9

SPE7L116D000630D3

SPE7L116D000630D0

SPE7L116D000630H5

SPE7L116D000629P5

SPE7L116D000628T9

SPE7L116D000626V3

SPE7L116D000625Y7

SPE7L116D000625P4

SPE7L116D000624T0

SPE7L116D000624A0

SPE7L116D000624K6

SPE7L116D000623P8

SPE7L116D000623B7

SPE7L116D000623B9

SPE7L116D000623K6

SPE7L116D000622P4

SPE7L116D000622P3

SPE7L116D000622N9

SPE7L116D000622P6

SPE7L116D000622P5

SPE7L116D000622Q0

SPE7L116D000622P1

SPE7L116D000622P0

SPE7L116D000622Q1

SPE7L116D000622E0

SPE7L116D000621W0

SPE7L116D000621V5

SPE7L116D000621D8

SPE7L116D000620S8

SPE7L116D000620U1

SPE7L116D000619W8

SPE7L116D000619B1

SPE7L116D000618Y0

SPE7L116D000618Y4

SPE7L116D000618Y5

SPE7L116D000619F0

SPE7L116D000619F7

SPE7L116D000618E6

SPE7L116D000617U7

SPE7L116D000618D2

SPE7L116D000617T8

SPE7L116D000617L6

SPE7L116D000615W7

SPE7L116D000614K8

SPE7L116D000612M7

SPE7L116D000612U0

SPE7L116D000612C1

SPE7L116D000610E4

SPE7L116D000610D8

SPE7L116D000609F7

SPE7L116D000609U8

SPE7L116D000609N9

SPE7L116D000608T4

SPE7L116D000608J4

SPE7L116D000608Q4

SPE7L116D000607V1

SPE7L116D000606D5

SPE7L116D000606D1

SPE7L116D000606C8

SPE7L116D000606F6

SPE7L116D000606C9

SPE7L116D000606F9

SPE7L116D000606H0

SPE7L116D000606C7

SPE7L116D000606D0

SPE7L116D000606F1

SPE7L116D000606G4

SPE7L116D000606H3

SPE7L116D000606D6

SPE7L116D000606E4

SPE7L116D000606G9

SPE7L116D000604C6

SPE7L116D000603J0

SPE7L116D000602X2

SPE7L116D000602B9

SPE7L116D000602G9

SPE7L116D000601R501

SPE7L116D000601R401

SPE7L116D000601S101

SPE7L116D000601R301

SPE7L116D000601R601

SPE7L116D000601R701

SPE7L116D000601E4

SPE7L116D000601H9

SPE7L116D000600Y9

SPE7L116D000601B2

SPE7L116D000600S201

SPE7L116D000600Q7

SPE7L116D000600S401

SPE7L116D000600T001

SPE7L116D000600R6

SPE7L116D000600S301

SPE7L116D000600S501

SPE7L116D000600S801

SPE7L116D000600S101

SPE7L116D000600J801

SPE7L116D000600F801

SPE7L116D000600F701

SPE7L116D000600F501

SPE7L116D000600J201

SPE7L116D000600J501

SPE7L116D000600J001

SPE7L116D0006995F

SPE7L116D0006984M

SPE7L116D0006968J

SPE7L116D0006968S

SPE7L116D0006963Y01

SPE7L116D0006961M

SPE7L116D0006924V

SPE7L116D0006926V

SPE7L116D0006918S

SPE7L116D0006894T

SPE7L116D0006888W

SPE7L116D0006857E

SPE7L116D0006848V

SPE7L116D0006827G

SPE7L116D0006824V

SPE7L116D0006818C

SPE7L116D0006813D

SPE7L116D0006794D

SPE7L116D0006793X

SPE7L116D0006787Q01

SPE7L116D0006788V

SPE7L116D0006787N

SPE7L116D0006787P01

SPE7L116D0006769F

SPE7L116D0006765Q

SPE7L116D0006765H

SPE7L116D0006760W

SPE7L116D0006745E

SPE7L116D0006740T01

SPE7L116D0006738Y

SPE7L116D0006735D

SPE7L116D0006724P

SPE7L116D0006694Y

SPE7L116D0006696D

SPE7L116D0006679X

SPE7L116D0006671P

SPE7L116D0006634X

SPE7L116D0006611U

SPE7L116D0006611L

SPE7L116D0006611V

SPE7L116D0006604G

SPE7L116D0006590G

SPE7L116D0006581J

SPE7L116D0006581L

SPE7L116D0006581H

SPE7L116D0006581N

SPE7L116D0006581M

SPE7L116D0006570J

SPE7L116D0006559G01

SPE7L116D0006533Q

SPE7L116D0006529A

SPE7L116D0006518Q

SPE7L116D0006507T

SPE7L116D0006508N

SPE7L116D0006496X

SPE7L116D0006489R

SPE7L116D0006482B

SPE7L116D0006481R

SPE7L116D0006478A

SPE7L116D0006476U01

SPE7L116D0006471D

SPE7L116D0006471U

SPE7L116D0006470Z

SPE7L116D0006467D

SPE7L116D0006466M

SPE7L116D0006463G

SPE7L116D0006461P

SPE7L116D0006459L

SPE7L116D0006459M

SPE7L116D0006458Z

SPE7L116D0006451Y

SPE7L116D0006449D

SPE7L116D0006435R

SPE7L116D0006426K

SPE7L116D0006426D

SPE7L116D0006427B

SPE7L116D0006426A
Contracting Technical Data File (CTDF) 2620-01-235-2028
October 2021
Criticality and Quality
Critical Item Code:

X

Flight Safety:

Life Support:

Certified Samples:

Serialization:

First Article Test (FAT):

Certificate of Quality Compliance:

Production Lot Testing:

Special Testing:

Qualified Products List (QPL):
Commercial Properties
Government Furnished Material:

Government Furnished Tooling:

Government Furnished Property:

Price Evaluation Code:

Diminshing Manufacturing Sources:

Warranty:

Commerical Off The Shelf (COTS):

End Item Application:

Auctioning Candidate:

Source of Procurement:

Contract Option:
Restrictions
Boeing Rights Guard:

Export Controlled:

Controlled Technical Data Package (TDP):

Restricted Technical Data Package (TDP):

Contains Classified Material

Weapons System Indicator Code (WSIC):

L
Packaging Requirements
Packaging Determination Table:

Packaging Review Code:

N

Special Packaging Instruction Number (SPIN):

Special Packaging Instruction Number Revision:

Special Packaging Instruction Number Date:

Pallet Reference Number Required: