E-2 Hawkeye EAW Aircraft
Tactical Airborne Early Warning Aircraft
Page 1 of 196
The Northrop Grumman E-2 Hawkeye is an all-weather, carrier-capable tactical airborne early warning (AEW) aircraft. This twin-turboprop aircraft was developed during the 1950s by the Grumman Aircraft Company for the United States Navy as a replacement for the earlier, piston-engined E-1 Tracer.
Since its introduction, it has been developed further over more than 50 years and the latest variant is in active service today with the US Navy and other nations.
Variants:
E-2 Hawkeye (1964)
E-2A Hawkeye (1967)
E-2B Hawkeye
E-2C Hawkeye
E2-2000 (E2K) Hawkeye (Prototype)
E-2D Advanced Hawkeye (AHE) (2007)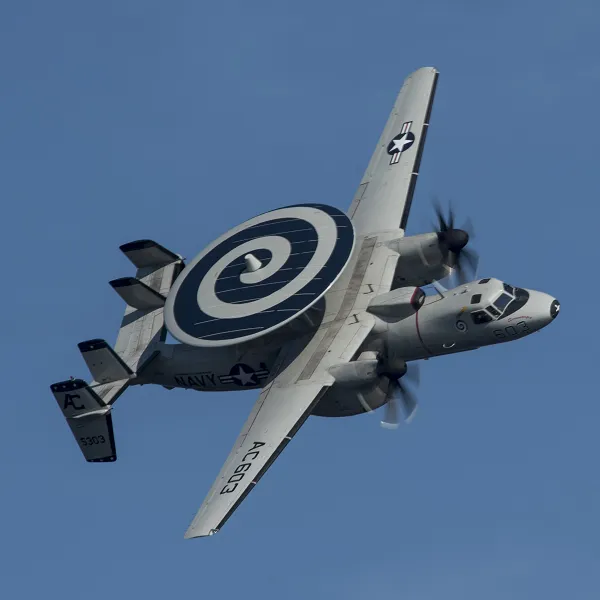 E-2 Hawkeye Technical Specifications
General Characteristics
Crew

Five

Dimensions

Length: 57 feet 6 inches (17.5 meters)
Height: 18 feet 3 inches (5.6 meters)
Wingspan: 18 feet 3 inches (5.6 meters)
Weight - Takeoff: 53,000 lbs (23,850 kg)
Weight - Basic: 40,200 lbs (18,090 kg)
E-2 Hawkeye Technical Specifications
Mobility
Propulsion

Two Allison T-56-A427 turboprop engines
5,100 shaft horsepower each

Airspeed

300+ knots (345 mph, 552 km/h)

Ceiling

30,000 feet (9,100 meters)
E-2 Hawkeye Technical Specifications
Functional & Cost
Primary Function

Airborne Command and Control, Battle Space Management

Unit Cost

$80 Million (USD)
Biography of the E-2 Hawkeye Aircraft
The E-2 Hawkeye is the US Navy's all-weather, carrier-based tactical battle management airborne early warning, command and control aircraft. The E-2 is a twin engine, five crewmember, high-wing turboprop aircraft with a 24-foot diameter radar rotodome attached to the upper fuselage.
The Hawkeye provides all-weather airborne early warning, airborne battle management and command and control functions for the Carrier Strike Group and Joint Force Commander. Additional missions include surface surveillance coordination, air interdiction, offensive and defensive counter air control, close air support coordination, time critical strike coordination, search and rescue airborne coordination and communications relay. An integral component of the Carrier Strike Group air wing, the US Navy E-2 uses computerized radar, Identification Friend or Foe and electronic surveillance sensors to provide early warning, threat analysis against potentially hostile air and surface targets.
Beyond the battle group, the Hawkeye's command and control capability makes it a multi-mission platform through its ability to coordinate concurrent missions that may arise during a single flight, to include: airborne strike, land force support, rescue operations, managing a reliable communications network between widely dispersed nodes and support for drug interdiction operations.
The continuous improvements in early airborne radars by 1956 led to the concept of an airborne early warning and command and control aircraft. The first aircraft to perform this mission was the Grumman E-1 Tracer (a variant of the S-2 Tracker anti-submarine aircraft), which saw service from 1954 to 1964. The E-1's successor, the E-2 Hawkeye, was the first carrier-based aircraft designed from the outset for the all-weather airborne early warning and command and control mission. Since replacing the E-1 in 1964, the Hawkeye has been the "eyes of the fleet." Since its combat debut during the Vietnam conflict, the E-2 has served the Navy around the world. The E-2 was nicknamed "Super Fudd" as it replaced the E-1 Tracer "Willy Fudd"
Hawkeyes directed F-14 Tomcat fighters flying combat air patrol during the two-carrier battle group joint strike against terrorist-related Libyan targets in 1986. In the early 1990s, E-2s provided airborne command and control for successful Coalition Air Operations during the first Arabian Gulf War. Directing both land attack and combat air patrol missions over Iraq, the E-2 Hawkeye provided air control for the shoot-down of two Iraqi MIG-21 aircraft by carrier-based F/A-18s in the early days of the war. Later during the 1990s, E-2s supported Operations Northern and Southern Watch over Iraq. E-2s also supported NATO operations over the former Republic of Yugoslavia, including Operation Deny Flight. Recently in Operations Enduring Freedom and Iraqi Freedom, E-2 Hawkeyes provided critical Airborne Battle Management and Command and Control functions supporting numerous Close Air Support and Battlefield Interdiction missions. E-2s also have worked extremely effectively with US law enforcement agencies in drug interdictions operating from bases in the United States and foreign countries.
The E-2C became operational in 1973 and surpassed one million flight hours in August 2004. The aircraft has undergone several upgrades to its active and passive sensors, engines and propellers. The newest variant of the E-2C, the E-2C Hawkeye 2000 (E-2K) with its new mission computer, improved radar displays and Cooperative Engagement Capability (CEC), combined with the shipboard Aegis weapon system, forms the cornerstone of sea based Theater Air Missile Defense (TAMD).
The E-2D Advanced Hawkeye (AHE) is the newest variant of the E-2 aircraft platform, replacing the E-2C Hawkeye. It features a state-of-the-art radar with a two-generation leap in capability and upgraded aircraft systems that will improve supportability and increase readiness. Key E-2D objectives include improved battle space target detection and situational awareness, especially in the littorals; support of Theater Air Missile Defense (TAMD) operations; and improved operational availability. The E-2D reached IOC in October 2014, and the Navy continues to invest in future capabilities to support command and control requirements for the strike group and the entire force.
In 2020, the first operational fleet squadron completed aerial refueling (AR) training. Aerial refueling increases the range and persistence of the E-2D AHE. With AR capabilities, the E-2D can remain aloft and on station for an extended period of time, allowing for extended range from the carrier, dual E-2D coverage, increased persistence and operational flexibility. AR-equipped aircraft will also feature new high endurance seats, fuel system enhancements, and new exterior lighting.
E-2C Weapon Systems Designator Codes (WSDC)
17N - AIRCRAFT, HAWKEYE E-2C
JHN - COUNTERMEASURE RECEIVER SET PASSIVE AN/ALR-73 (PDS) E-2C AIRCRAFT
XJN - Foreign Military Sales (FMS) - AIRCRAFT, HAWKEYE E-2C
E-2 Hawkeye Spare Parts
Weapon Systems Designator Code (WSDC): 17N, JHN, XJN
AIRCRAFT, HAWKEYE E-2C
Top 10 Supply Groups (FSG)
Top 10 Supply Classes (FSC)
NSN Parts for E-2 Hawkeye Aircraft

Page 1 of 196